From July 20th-27th, the 
Know Your Neighbor Coalition's "Share Your Story" Campaign
 saw over 3 million views of videos of people teaching others about diverse faith communities and the importance of interfaith engagement! More than 140 organizations participated. You can find detailed results and sample videos below.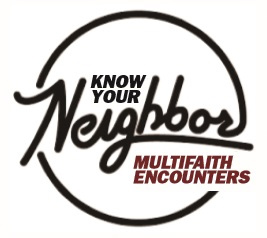 Working together with Know Your Neighbor interfaith partners across the country, ING's "Share Your Story" campaign asked ordinary Americans to share videos and posts discussing one or more of the following:
What they want others to know about themselves and their faith
What they have learned from people of other traditions
Why they believe interfaith work is important
The campaign reached millions of people around the country, demonstrating the power of American values of inclusion and diversity and showing what we can achieve by working together against forces that would divide us. It ran from July 20th to July 27th, using the hashtags #KYN or #KnowYourNeighbor. Here are some of its results:
Over 140 organizations across the nation retweeted, shared, or created posts about #KnowYourNeighbor, with countless individuals also taking part.
#KnowYourNeighbor and #KYN had a combined reach on Twitter of 1.8 million and a total of 2.9 million impressions.
#KnowYourNeighbor and #KYN posts and videos on the Islamic Networks Group's (ING) Facebook Page received 183,729 impressions and had a reach of125,796.
We can't begin to estimate the number of views of those who created their own videos and posts on Facebook — but we're sure that this impact is tremendous.
Our most successful and viewed posts and videos follow:
[Note: Join us for our Back-to-School campaign in the fall to counter bullying in schools and encourage classmates to learn about each other.]