ING Affiliates Offer Our Programs in their Local Region
Since 2000, ING's Affiliates have brought our content and presentations to locations across the country. Besides other interfaith work they do, ING Affiliates deliver presentations from the Islamic Speakers Bureau catalog and provide cultural diversity seminars for many different audiences from coast to coast. If you're outside the San Francisco Bay Area, check out our Affiliates page to locate the nearest office to you. Pictured above are directors of some of our affiliates. From left to right starting with the top row: Deborah Abu-Alrub (Islamic Speakers Bureau of Alabama), Fouzi Husaini (Seattle Islamic Speakers Bureau), Shakila T. Ahmad and Shabana Shakir-Ahmad (Islamic Center of Greater Cincinnati), Seham Abdala (New Jersey Islamic Networks Group), Zehra Wamiq (Delaware Valley Speakers Bureau), Tehseen Lazzouni (Islamic Speakers Bureau of San Diego), Nabeeh Hasan and Neda Kikhia (Colorado Muslim Speakers Bureau), Dr. Soraya Orady (Islamic Education & Resources Network: ILearn), Azra Hussain (Islamic Speakers Bureau of Arizona), Zulfat Suara (American Muslim Advisory Council).
To schedule a Speakers Bureau panel or presentation in the San Francisco Bay Area, complete our online forms for presentations about Islam and Muslims, for interfaith panels, and for cultural diversity workshops.
ING's Online Educator Curriculum and Teaching
Resources Reach 40 States 

Where we don't have affiliated speakers bureaus, educators can still access our online curriculum by registering at our site. This content is currently downloaded by educators in 40 states. And for individuals who are called upon to deliver a basic presentation about Muslims, we recently made our "Getting to Know American Muslims and Their Faith" presentation available online for public use. The slideshow and its accompanying script serve as an excellent introduction and overview of Muslims and their faith. Be sure to study up on our Answers to Frequently Asked Questions as well.
Back to School Campaigns Coming in September for
Educator Resources & Teaching Best Practices

Students are either heading back to school this week or in the coming weeks. This is historically a very busy time for ING as we receive a flurry of requests for in-class presentations and panels on Islam, Muslims, and interfaith relations as well as educator seminars and anti-bullying workshops. To get our content into the hands of those who need it the most, look for our Know Your Neighbor (#KYN) back to school campaign centered on our educator resources as well as that of our partners, plus the INGYouth Speakers program. If you're interested in joining these campaigns, write to Interfaith Coordinator Kate Chance at [email protected]
ING Responds to Violence in Charlottesville with Call to #KnowYourNeighbor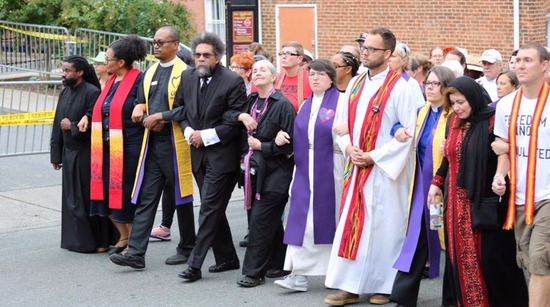 Courtesy Steven D. Martin
"…We like to place blame after public tragedies. The neo-Nazis and racists who — emboldened by tacit acceptance of their beliefs by far too many people in public office — organized the rally in a town that didn't want them. The Black Bloc and Antifa counterprotesters who attacked and pepper-sprayed Confederate-flag-waving protesters, raising the general tension at the event. The Charlottesville and Virginia State police who stood by when things turned dangerous.
Ourselves, for letting things get to a point where hundreds of our fellow citizens felt it necessary to boldly and proudly declare that "Jews will not replace us" or "Blood and soil" or "America is for white people". We, too, are complicit. We need to speak out (as the counterprotesters tried to do) with a prophetic voice against racism and xenophobia — but without dehumanizing and demonizing (let alone physically attacking) the human beings who are swayed by these attitudes…" [Continue reading this statement at our staff blog.]