Happy Thanksgiving!
Greetings of peace:
Nearly 400 years ago, according to the American civic imagination, the Pilgrims celebrated the First Thanksgiving. As a national founding story, Thanksgiving endures as a special holiday that is simultaneously secular and religious.
Think of the meaning: a persecuted minority found themselves unable to exercise their faith at home. They chose to depart for a new, potentially dangerous land that promised freedom of religion for all. Through hunger and disease and failure after failure, they came to succeed at their civic experiment and expressed their gratitude by sharing their bounty with Native Americans.
That last detail obscures the heinous ethnic cleansing that was also part of the colonial reality. Despite that shameful history, there is a profound truth to the story of the Pilgrims: faithful people desperately seeking the freedom to practice their religion freely. It's no surprise that their reason for traveling to North America eventually made its way into our Constitution — as its first freedom, in fact. Today, we give thanks for that long chain of inspiration and commitment that still guides the United States as a home for people of all faiths and none.
We'd like to wish all of you a very happy Thanksgiving, and we pray that it is a restful time for you and your families.
Thank you,
Maha Elgenaidi
Executive Director
P.S. Each year, the "anti-consumerism" holiday of #GivingTuesday generates millions of dollars for worthy organizations across the globe. Please check out the information about it below. We hope that you'll consider a gift to ING to help celebrate!
#GivingTuesday is November 28th: Will You Join Us?
#GivingTuesday is a global day of giving fueled by the power of social media and collaboration. Celebrated on the Tuesday following Thanksgiving and the widely recognized shopping events Black Friday and Cyber Monday, #GivingTuesday kicks off the charitable season, when many focus on their holiday and end-of-year giving. We urge you to participate in #GivingTuesday this year by helping ING counter religious bigotry by pursuing peace through education and interreligious engagement. Make your gift to ING 
at our site
.
New Editorial on Muslim and Jewish Efforts
to Resist Anti-Semitism and Islamophobia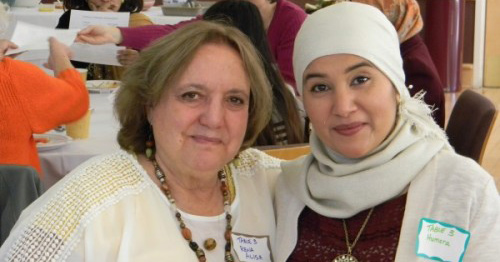 ING Executive Director Maha Elgenaidi recently published an 
op-ed at the Huffington Post
 where she encourages Muslims and Jews to work together in combating the twin evils of Islamophobia and anti-Semitism: 
"Islamophobes (like anti-Semites) and their supporters should take note that this approach to Islamic sacred texts — plucking verses out of context and so distorting their meaning — most closely resembles that of violent extremists such as ISIS and al-Qaeda among Muslims and Kach and similar groups among Jews."
Special Event: Join Us As A Speaker!
Attend Our Upcoming Speakers Training in Pleasanton:
Saturday, December 9th – 9 AM to 3 PM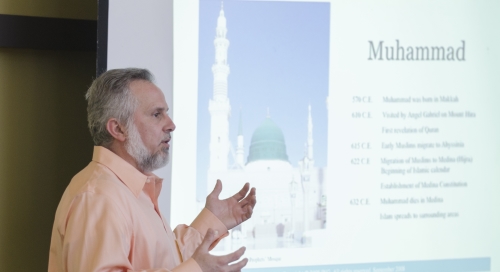 Join us! The Islamic Speakers Bureau is one of ING's core programs, with our speakers delivering hundreds of presentations to thousands of individuals each year. On Saturday, December 9th, from 9:00 AM—3:00 PM we are offering training for those interested in learning more about what it takes to join the Islamic Speakers Bureau and become a certified speaker. Please RSVP here for this highly informative and engaging training. Following the first meeting, speakers receive ongoing support and mentoring to develop both their Islamic literacy and their presentation skills.
Upcoming Featured Events
National Interfaith Anti-Bullying Summit:
December 2-3 in Washington, DC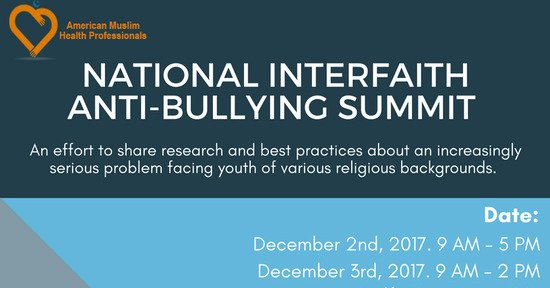 ING is pleased to be a part of the Steering Committee for the National Interfaith Anti-Bullying Summit at George Washington University in Washington, D.C., co-hosted by American Muslim Health Professionals (AMHP). The primary objective of the Summit is to share research and best practices about an increasingly serious problem facing youth of various religious backgrounds. At this time of heightened fear and discrimination, such an event and the efforts that follow from it are of critical importance. ING Content Director Ameena Jandali and INGYouth Manager Ishaq Pathan will speak at the Summit. Registration is now open.
Past Event Highlights
ING at the National Council for the
Social Studies 97th Annual Conference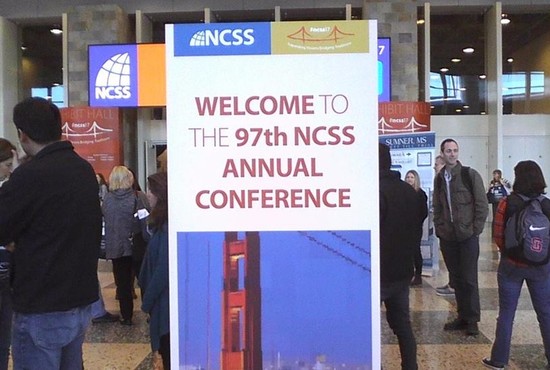 ING Executive Director Maha Elgenaidi, Content Director Ameena Jandali, Interfaith Manager Kate Chance, and Programs Analyst Henry Millstein, PhD presented on three panels at the the 97th Annual National Council for the Social Studies (NCSS) Conference. The NCSS is the largest professional association in the country devoted solely to social studies education.
ING at South Bay Islamic Association
Open House on "Giving Thanks"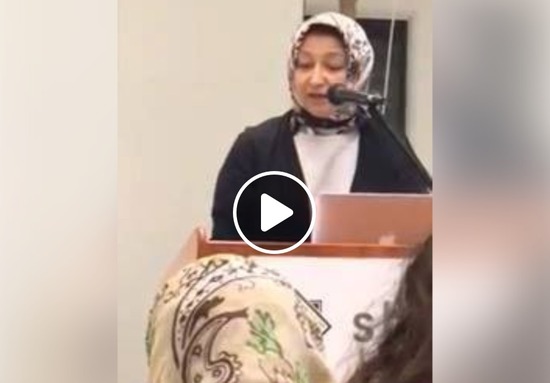 On Saturday, November 18th, ING Executive Director Maha Elgenaidi attended an open house for the South Bay Islamic Association in San Jose. The open house was organized by students from the Suffa Islamic School around the concept of "giving thanks" in Islam, and Maha spoke to those values in a short presentation to the community. You can read her whole speech here and watch an excerpt of her talk by clicking the image above or this link.
Muslim Women Beyond the Stereotypes
at Trinity Episcopal Church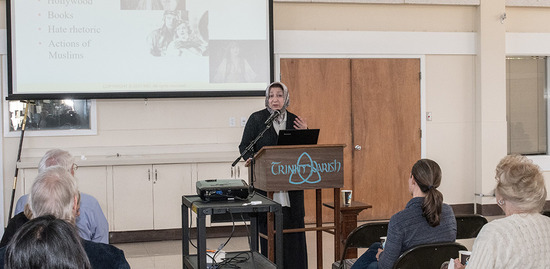 On Sunday, November 19th, ING Executive Director Maha Elgenaidi delivered our popular presentation "Muslim Women Beyond the Stereotypes" to 80 congregants at Trinity Episcopal Church in Menlo Park. During her talk, a group of certified INGYouth Speakers met with the Trinity Episcopal Youth Group to deliver an educational presentation about Muslims and their faith.
These meetings are part of a new ING partnership with Trinity and its congregants as they actively reach out to the local Muslim community.
3rd Annual Interfaith Thanksgiving Service
at Cathedral Basilica of Saint Joseph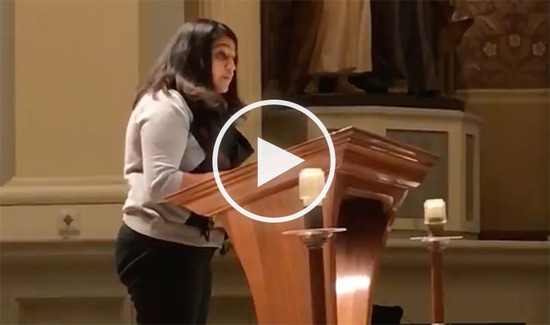 On Sunday, November 19th, ING Executive Director Maha Elgenaidi, Interfaith Speakers Bureau member Azmat Tanauli, and our new Programs Associate Heena Haiderali (pictured above) joined the interfaith community of San Jose at the 3rd Annual Interfaith Thanksgiving Service at the Cathedral Basilica of Saint Joseph. The theme of the celebration was "United in Hope". Visit this link to see Maha sharing a passage from the Qu'ran on unity, hope, and togetherness. Click the image above or visit this link to see Heena's speech on hope. You can also read her whole speech here. While we're at it, we'd like to welcome Heena to the ING family! You can learn more about her at our staff page.
Candidly Speaking: Conversations Across Cultures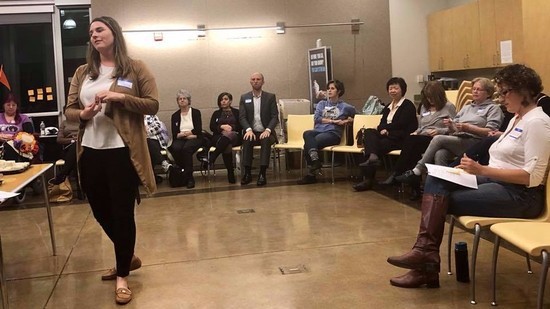 On November 15th, ING Interfaith Manager Kate Chance gave an opening speech on the concept of dialogue across differences for the event "Candidly Speaking: Conversations Across Cultures," hosted by the Silicon Valley Chapter of the National Coalition of 100 Black Women.