Our Impact Extends With Every Audience
Since the elections, ING has been the go-to organization for presentations about Islam and Muslims, interfaith panels, training seminars, start-up dialogue groups, interfaith partnerships and even Quran-Bible study groups! It's been a whirlwind of activity that speaks to the urgent need for learning about Muslims and their faith and bridge-building among diverse communities and to the desire of our allies to work with American Muslims. We are grateful to be of service to the community, without whose support we couldn't possibly do the work we do. As a result of this support, we've been able to increase the number of trained and certified volunteer Bay Area speakers by 15 this year.
Combined, since the November elections, ING Bay Area staff and speakers spoke face-to-face to audiences totaling over 500,000 people! This is compared to around 15,000 people during the same period last year, a 33x growth. Groups requesting our services have included corporations such as the Northern Trust and Boudin Bakery, universities such as Stanford, UC Santa Cruz, Santa Clara, San Jose State, California Institute of Integral Studies, and University of Notre Dame; hospitals and medical centers such as Kaiser Permanente, San Francisco General, and San Mateo County Behavioral Health and Recovery; law enforcement agencies such as Northern California Regional Intelligence Center and Pleasanton Police Department; and churches, synagogues, and Buddhist temples, as well as community centers and Rotary clubs—all this in addition to over 200 middle and high schools!
Here are a few of the numbers that reflect just a part of how we serve the Bay Area community. The graphs below only apply to schools:
"My students appreciated getting to interact with, ask questions of, and learn from an intelligent and engaging Muslim presenter. This positive interaction will go a long way in combating stereotypes. The speaker was fantastic and connected with the kids right away. I could tell they felt comfortable with her and were engaged."
– Elementary school teacher after ISB presentation
"With all the media focus on negative aspects of religion, it's relieving and reassuring to hear religion from people who are there to educate, not convert or press their views."
– San Jose State University professor after IFSB panel
Interfaith Speakers Bureau Ratings Continue to Improve
Audience ratings of IFSB panels have shown a consistent upward trend since 2014. The accompanying graph tells the story. These figures are based on surveys conducted after IFSB panels, in which audiences are invited to rate the overall panel quality on a scale from 1 (Poor) to 4 (Excellent).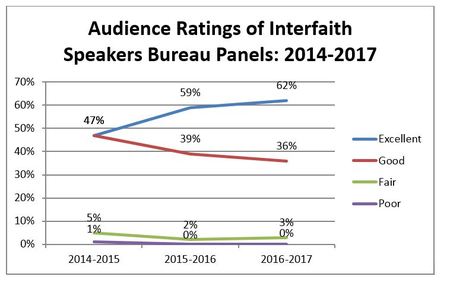 Panel and Presentation Requesters Continue to Hold
ING Content and Speakers in High Regard
ING conducts an online survey of teachers and other requesters of presentations, asking them to rate both ING content and speakers according to several criteria. The survey results show requesters continuing to give high marks to both. Highlights from the data from the 2016-2017 surveys are shown below.
Perhaps the best test of ING's presentation quality is whether requesters who have once experienced a presentation would request an ING presentation again. As in previous years, the overwhelming majority of requesters (98% in 2016-2017) say they would, while only 2% (1 requester) said they would not: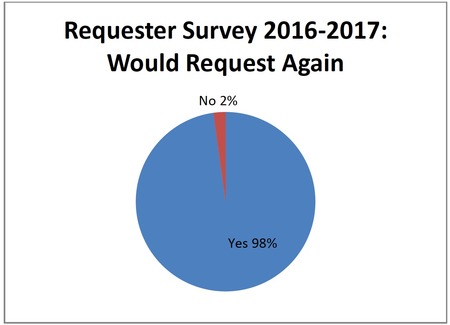 ING has not marketed its presentations for several years. Nonetheless, the majority of requesters in 2016-2017, as in previous years, were new requesters. This testifies to the regard in which ING is held, especially among teachers, since most of these new requesters came to ING as a result of recommendations by colleagues: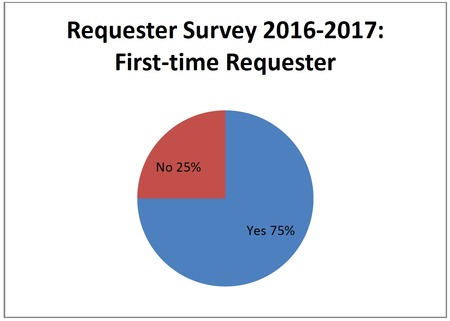 ING presentation content continues to draw high praise, with a substantial majority (71%) rating it "Excellent" and an overwhelming majority (94%) "Excellent" or "Good":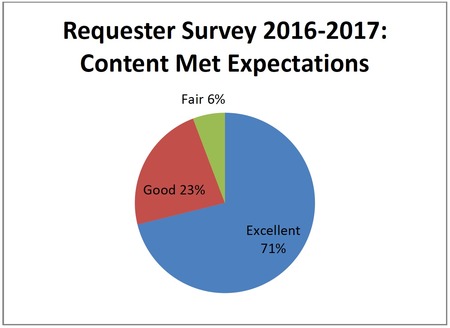 Requesters overwhelmingly (99%) rate speaker effectiveness as "Excellent" or "Good," with a strong majority (72%) awarding it the higher rating: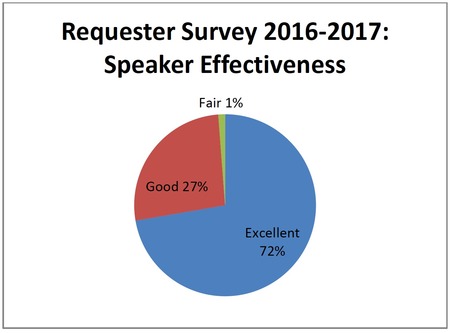 A great majority of requesters found speakers' delivery skills "Excellent," with 18% rating them "Good" and only 4% "Fair":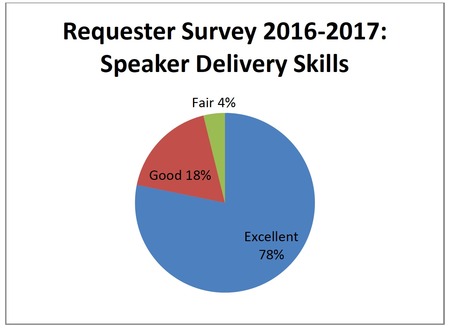 These figures are comparable to those for previous years, indicating the consistency of ING presentation quality and the continuing dedication and hard work of our volunteer speakers.
ING's National Reach
| | |
| --- | --- |
| | New ING Affiliates: ING's network of Affiliates has grown to 23 organizations across 17 states and one Canadian province, where trained speakers using ING's methodologies and content deliver ING presentations regionally to tens of thousands of students and professionals in schools, universities, houses of worship, community centers and public institutions. |
| | Online Curriculum: Educators in 35 states — plus the District of Columbia and the Virgin Islands — and four Canadian provinces use our lesson plans and curricula. These products reach a wide audience, too, with 171 K-12 schools and 42 colleges taking advantage of them. Our two newest entries on Islamophobia and Its Impact and Emir Abd el Kader: A Muslim Hero for Our Time have been well-received by educators. |
| | Expanded Media Presence: We started 2017 with a firm commitment to generating positive media coverage of ING people and programs. Thus far, we've appeared in 46 articles and reports in various local/national outlets. You can catch up on ING-related stories here. |
| | Digital Footprint: Our online presence has experienced rapid growth this past year, allowing us to reach new audiences across the country — and the world. The ING website receives over 270,000 unique visitors each year, and our FAQs, providing accurate, researched answers to questions about Islam and Muslims, including such topics as ISIS, Sharia, and Islamophobia, see more than 124,000 unique visitors each year. The ING Facebook Page now has more than 37,000 fans and regularly hits organic reach/engagement in the 7%-15% range, which is well above average. |