Greetings of peace:
A new report from the FBI this week shows a troubling rise in hate crimes from 2015 to 2016. Most worrisome is that anti-Muslim hate crimes are up 26% — the highest level since the months after the 9/11 attacks. At times like this, I can't overstate the importance of the work that ING is doing to promote education and interreligious engagement.
While our certified speakers can't be in all places across the country every day, people reach us through our online content which is viewed or downloaded in 45 states, and through news stories like those we list below, which cast a wider net of peer-to-peer engagement and education about Islam and Muslims. We urge you to read these stories and share them with your networks.
Every day, we're changing attitudes and dispelling negative stereotypes. We appreciate your partnership and support.
Thank you,
Maha Elgenaidi
Executive Director
ING in the News
'Something We're All Used To': Local Muslim Students
Learn How To Respond To Bullying
National Public Radio member station KERA in Dallas, Texas 
covered a recent INGYouth Teen Empowerment Workshop and Youth Speakers Training
, quoting INGYouth Manager Ishaq Pathan, "I think one thing that we're really trying to do here is to encourage these kids to speak up for themselves and move from being targets to being empowered teens who are actively working to combat Islamophobia."
Muslim Students in West Virginia Talk About
How to Overcome Bullying in Schools
The Charleston Gazette-Mail sent a reporter to last Saturday's INGYouth Workshop in South Charleston, West Virginia, interviewing one attendee who said, "I think having this conversation shows students that they can wear their identity with pride, and it's not something they should only have at home and something they should be ashamed of in school." The workshop was also covered by WSAZ-TV, the local NBC affiliate.
ING Comments on Anti-Muslim Speaker at Indiana Church
ING Executive Director Maha Elgenaidi was consulted about how to conduct responsible public education about Islam after an anti-Muslim speaker appeared at an Indiana church: "They were duped, as many Americans are duped, by the very one-dimensional, negative coverage of Islam and Muslims. We come across this all the time. There is a huge difference between someone being critical of Islam or religion all together and being an Islamophobe."
Muslims and Jews Working Together Against Bigotry Targeting Our Communities — And From Within Our Communities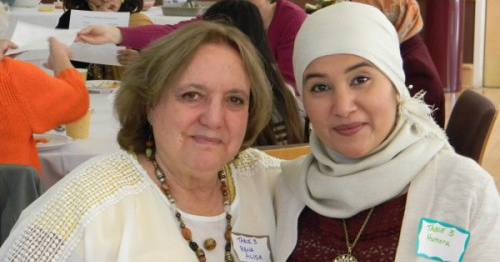 Earlier this week, ING Executive Director Maha Elgenaidi came under fire for 
calling on Stanford University
 to rescind an invitation for a noted Islamophobe to speak on campus. In response to his attack, she published an 
op-ed at the Huffington Post
 where she encourages Muslims and Jews to work together in combating the twin evils of Islamophobia and anti-Semitism: "Islamophobes (like anti-Semites) and their supporters should take note that this approach to Islamic sacred texts — plucking verses out of context and so distorting their meaning — most closely resembles that of violent extremists such as ISIS and al-Qaeda among Muslims and Kach and similar groups among Jews."
A "Golden Age" for Muslim-Jewish Love?
The Jewish News of Northern California published an article about a special symposium where ING Executive Director Maha Elgenaidi spoke: "The founder of the San Jose-based Islamic Networks Group and the member of a prominent Bay Area Jewish family have something in common: Both believe in the value of studying the texts and traditions of faiths other than their own. Maha Elgenaidi, founder and executive director of ING, is not only the author of multiple lectures and handbooks on Islam, but also has studied Torah more deeply than many American Jews."
ING Director Speaks at Interfaith Service for
Benefit Concert: $17 Million Raised for Wildfire Relief
ING Executive Director Maha Elgenaidi offered a prayer at an interfaith service before the "Band Together Bay Area" benefit concert at AT&T Park on Thursday, November 9th. The concert, which featured Metallica, G-Eazy, Dave Matthews and Tim Reynolds, Rancid, Dead & Company, and Raphael Saadiq, raised over $17 million to rebuild the communities devastated by recent fires in the North Bay. You can watch video of Maha's prayer here.
Special Event: Join Us As A Speaker!
Attend Our Upcoming Speakers Training at the
ING Office in San Jose: Saturday, December 9th
Join us! The Islamic Speakers Bureau is one of ING's core programs, with our speakers delivering hundreds of presentations to thousands of individuals each year. On Saturday, December 9th, from 9:00 AM—3:00 PM we are offering training for those interested in learning more about what it takes to join the Islamic Speakers Bureau and become a certified speaker. Please RSVP here for this highly informative and engaging training. Following the first meeting, speakers receive ongoing support and mentoring to develop both their Islamic literacy and their presentation skills.
Upcoming Featured Events
National Council for the Social Studies Annual Conference Panels: November 17th-18th
ING Executive Director Maha Elgenaidi, Content Director Ameena Jandali, Interfaith Manager Kate Chance, and Programs Analyst Henry Millstein, PhD will present on three panels at the the National Council for the Social Studies Annual Conference (NCSS). The NCSS is the largest professional association in the country devoted solely to social studies education. On Friday, November 17th, Maha will participate in the panel "Taking First Amendment Rights Seriously While Studying Religion" and on Saturday, November 18th, Kate will participate in the panel "Know Your Neighbor – Pluralism, Pedagogy, and Interfaith Engagement". Also on Saturday, Maha, Ameena, Henry, and Kate will participate in the panel "Countering Islamophobia and Promoting Pluralism through Online Curricula". Online conference registration available here.
ING at South Bay Islamic Association Open House on "Giving Thanks": November 18th
On Saturday, November 18th, ING Executive Director Maha Elgenaidi will attend an open house for the South Bay Islamic Association in San Jose from 3:00 PM to 5:00 PM. The open house was organized by students from the Suffa Islamic School around the concept of "giving thanks" in Islam, and Maha will speak to those values in a short presentation to the community around 4:00 PM.
Muslim Women Beyond the Stereotypes at Trinity Episcopal Church: November 19th
On Sunday, November 19th, at 11:30 AM, ING Executive Director Maha Elgenaidi will deliver our popular presentation "Muslim Women Beyond the Stereotypes" to the congregants at Trinity Episcopal Church in Menlo Park. Simultaneously, a group of certified INGYouth Speakers will meet with the Trinity Episcopal Youth Group to deliver educational presentations about Muslims and their faith. These meetings are part of a new ING partnership with Trinity and its congregants as they actively reach out to the local Muslim community. An article about that friendship recently appeared in the San Jose Mercury News.