Table of Contents:
ING Workshop: Answering Difficult Questions about Islam and Muslims in the Current Political Environment
Saturday, February 27th, 10:30 AM – 3:30 PM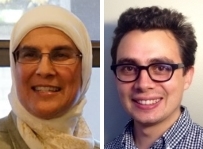 Trainers: Ameena Jandali, ING Content Director and Sean Rose, ING Deputy Director
For Muslims participating or wishing to participate in interfaith work or speaking to the public about Islam, this workshop was designed for you. Non-Muslim interfaith allies welcome.
The current moment is one of the most challenging times to be an American Muslim. Islamophobia is at an all-time high, fueled in part by recent tragic national and international events. Muslims often find themselves called upon to answer difficult questions about their faith and loyalty. To help chart a path through, we've organized this day-long workshop focused on guidelines, methodology, and knowledge for understanding and responding to frequently asked questions about Islam and Muslims. The workshop is suitable for ages high school and above. Attendees will receive a certificate of attendance and a printed kit with answers to common FAQs.

Registration fee: $10 which covers materials and a light lunch. For questions, contact Content Manager Henry Millstein at [email protected]
Parents: Tell Your Children's Teachers
About Our New Educator Resources
In January, expert guests from some of the nation's leading educational, civil rights, and interfaith organizations joined ING staff for a webinar series. The webinars explored best practices for teaching about Islam and world religions in public schools. Today we sent this note to educators across the country with a link to the webinar recording along with a downloadable list of the resources discussed in the webinar. We hope that you will share them with your children's teachers!
Be sure to check out the recording of the Parent Webinar "Supporting Your Muslim Student" and its accompanying resources as well.

Upcoming INGYouth Workshop
with Colorado ING Affiliate
February 20th, 9:00 AM – 4:00 PM
Later this month, ING staff will travel to Colorado for an INGYouth Workshop with the Colorado Muslim Speakers Bureau, an ING Affiliate.
Upcoming Adult Interfaith Training and INGYouth Workshop with Michigan ING Affiliate
March 5th and 6th, 2016

ING staff will travel to Michigan for events with the Islamic Education & Resources Network (ILearn), an ING Affiliate. On Saturday, March 5th, the Muslim Unity Center (MUC) will host an adult-focused event on Effective Interfaith Training for Muslims: Thriving in Difficult Times. On Sunday, March 6th, the MUC will also host an INGYouth Workshop for students aged 10-18 and their parents.
Featured Events from ING's Interfaith Allies Program: #HateEndsWithMe
Interfaith Allies – #HateEndsWithMe
is ING's national grassroots campaign to respond to growing anti-Muslim and anti-minority sentiment, bigotry, and hatred by encouraging and facilitating face-to-face engagement, relationship-building, fellowship, and action between people of different religious traditions, beliefs, and cultures. Over the coming year, with the unique opportunities and needs that an election cycle brings, congregations and places of worship will be at the forefront of efforts to build face-to-face, person-to-person relationships of trust and mutual respect with those from different religious traditions and backgrounds. Here are some upcoming Interfaith Allies events that you can attend:
Pursuing Peace through Education and Interreligious Engagement
Saturday, February 20th, 10:15 AM in Palo Alto
At this event sponsored by the Catholic Diocese of San Jose, ING Speaker Ismael Nass will help guide a
workshop
focused on interreligious dialogue with an emphasis on developing a sense of mutual respect, understanding, and engagement.
Community Forum: Ask Questions About Islam and Muslims
Saturday, February 20th, 12:00 PM in San Jose
ING Chief Executive Officer Maha Elgenaidi will bring her expertise to this
Community Forum
where visitors can ask questions about Islam and Muslims
Islamophobia and American Muslims
Sunday, February 28th, 10:30 AM in Berkeley
ING Content Director Ameena Jandali will deliver a
presentation
on the interplay of Islamophobia and American Muslims at this event for the United Methodist Church of Berkeley.
50th Anniversary of Nostra Aetate: Jewish Reflection
Wednesday, March 16th, 7:00 PM in San Jose
ING Speaker Harry Cornbleet will offer one of a series of reflections by members of different faiths on the Vatican II document Nostra Aetate that opened up the Catholic Church to interfaith dialogue.
Birds of Longing: Exile and Memory – Muslim, Jewish, and Christian Poetry from the Convivencia
Thursday, March 31st, 7:00 PM in Los Gatos
The art project "Birds of Longing: Exile and Memory" interweaves Muslim, Jewish, and Christian poetry and spiritual texts from the period of the Convivencia in Spain. ING Chief Executive Officer Maha Elgenaidi will participate on an interfaith panel reflecting on the artwork and texts.
What a Muslim Wishes Christians Knew About Islam
Sunday, April 3rd, 5:00 PM in Piedmont
ING Content Director Ameena Jandali will present her
reflections
on "What A Muslim Wishes Christians Knew About Islam" at Piedmont Community Church.
20th Annual Multicultural Freedom Seder
Wednesday, April 20th, 6:00 PM in San Francisco
The theme for this year's
Multicultural Passover Freedom Seder
 is modeled on recognizing the many communities that call San Francisco home. ING is a co-sponsor of the Freedom Seder and we urge you to attend and celebrate together. You can join ING's table by writing to ING Deputy Director-Programs, Sean Rose at
[email protected]