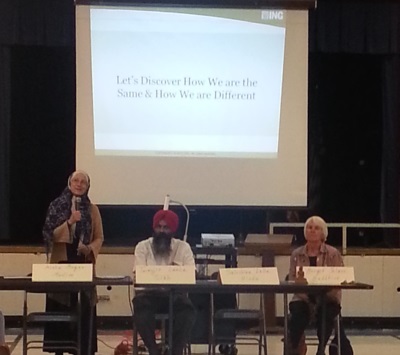 An ING panel of speakers from four faith traditions – Muslim, Sikh, Hindu, and Buddhist – delivered a first-ever interfaith panel to 120 fifth graders at Parkmont Elementary in Fremont last Friday. Previously, ING presented selected topics from their middle and high school presentation Getting to Know American Muslims and their Faith to two sixth grade classes at the school. Both presentations focused on 5 areas of the faiths described: greetings, prayer or mediation, holidays, history in the United States, and famous people.
Both presentations were organized in response to an incident in which a 6th grade Muslim student was choked and called a "terrorist" by another student. Both the parent of the child, Asfia Ahmed, and the principal of the school, Marianne Schmidt, were honored at ING's recent supporter's dinner with ING's "Standing Up for Respect for All" Award.
After the first presentation, Asfia Ahmed expressed her gratitude to ING in a note where she wrote: I am happy to say that the pilot program started last week with presentations on Muslims for the 5th and 6th graders. A large percentage of these children did not know anything about Muslims and their faith before these presentations and now they do and can judge for themselves if the religion perpetrates terrorism instead of believing everything put out in the media. ING has done an excellent job with these presentations and I would like to thank them.