Upcoming ING Events
INGYouth Workshops in California, Texas, West Virginia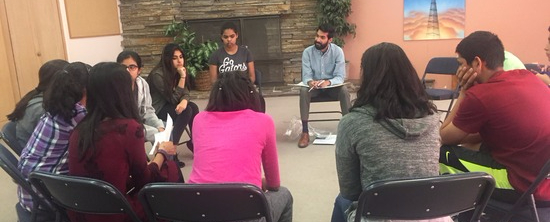 The INGYouth Program is holding a series of workshops and trainings in the coming month for Muslim teens in California, Texas, and West Virginia. For more details, check out the listings below or contact INGYouth Manager Ishaq Pathan at 408-296-7312 x 130 or [email protected]
A Golden Age in the Golden State? Muslims and Jews
Creating a Culture of Understanding: November 5th

ING Executive Director will present a keynote address for a symposium with Hebrew Union College Professor Reuven Firestone at the Marin Jewish Community Center on November 5th. Maha will explore Muslim-Jewish relations in the United States and the Bay Area in a speech entitled "The Promise and Warning of the Golden Age in Medieval Spain". Maha speaks as part of this special conference on local Muslim-Jewish efforts to foster dialogue, cooperation, and, ultimately, peace.
National Council for the Social Studies
Annual Conference Panels: November 17th-18th

ING Executive Director Maha Elgenaidi and Content Director Ameena Jandali will present on two panels at the the National Council for the Social Studies Annual Conference (NCSS). The NCSS is the largest professional association in the country devoted solely to social studies education. On Friday, November 17th, Maha will participate in the panel "Taking First Amendment Rights Seriously While Studying Religion" and on Saturday, November 18th, Ameena will participate in the panel "Know Your Neighbor – Pluralism, Pedagogy, and Interfaith Engagement". Online conference registration available here.
National Interfaith Anti-Bullying Summit:
December 2-3 in Washington, DC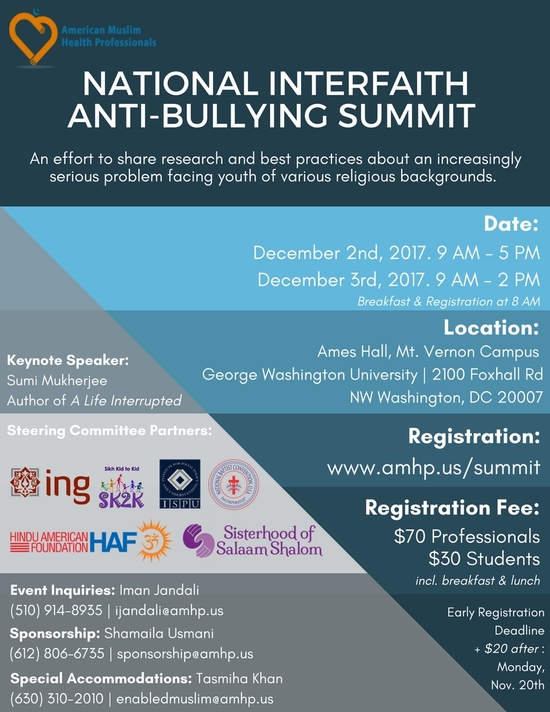 ING is pleased to be a part of the Steering Committee for the National Interfaith Anti-Bullying Summit at George Washington University in Washington, D.C., co-hosted by American Muslim Health Professionals (AMHP). Teasing, harassment, and bullying based on real or perceived religious differences have become an increasingly prevalent problem on school campuses. The primary objective of the Summit is to share research and best practices about an increasingly serious problem facing youth of various religious backgrounds. At this time of heightened fear and discrimination, such an event and the efforts that follow from it are of critical importance. Registration is now open.
Highlights of Past Events
ING Director Speaks at Church of Jesus Christ
of Latter-Day Saints Interfaith Event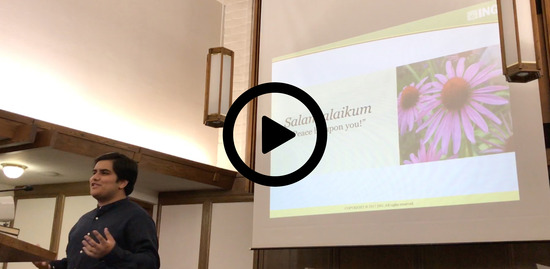 ING Executive Director Maha Elgenaidi appeared at the Los Altos Stake of the Church of Jesus Christ of Latter-Day Saints (LDS) on Sunday, October 8th to kick off a series of interfaith events in the Mormon church to promote education about other religions. Over 300 Mormons attended to hear Elgenaidi speak about Muslims in America in the context of Islamophobia and the current political environment.
"There are clear parallels in the historical demonization of Mormons and public sentiments about Muslims today," said Elgenaidi. "Muslims can learn from Mormons' commitment to their faith and community which only worked to strengthen their identity and cohesion." Musa, an INGYouth Speaker, also presented remarks about growing up as a first-generation American Muslim. Click here or on the image above to see a clip of Musa's speech.
Pluralism in Muslim Communities Presentation
to Humanist Community of Silicon Valley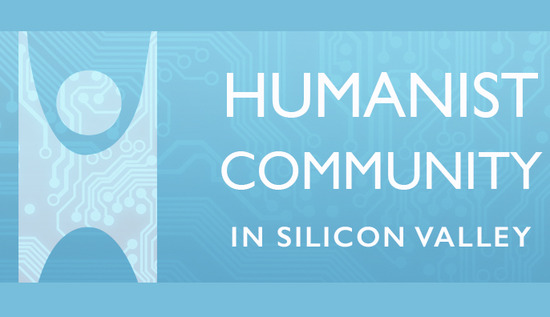 ING Executive Director Maha Elgenaidi spoke about pluralism in Muslim communities for sixty attendees at the Humanist Community in Silicon Valley on Sunday, October 8th. Attendees asked so many questions that Maha stayed on for lunch to continue the conversation!
INGYouth Manager Delivers ING's Core Presentation for Foster City School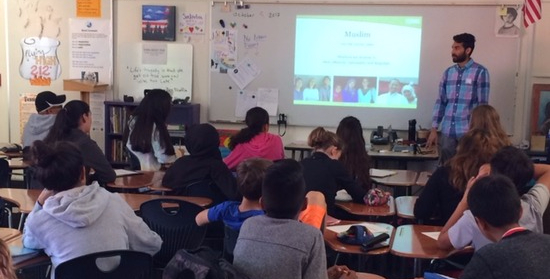 On Wednesday, October 4th, INGYouth Manager Ishaq Pathan delivered our core presentation "Getting to Know American Muslims and Their Faith" for a Foster City middle school social studies class. The instructor noted that "My school had such an enriching experience. Ishaq is such a pleasant and patient person, we were very fortunate to have him two years in a row."
National Day of Prayer for Behavioral Health
Recovery and Understanding Event
On Tuesday, October 3rd, ING Executive Director Maha Elgenaidi delivered remarks at the San Mateo County Behavioral Health and Recovery Service's interfaith event for the National Day of Prayer for Behavioral Health, where she said "As we gather today in prayer for those suffering from these afflictions, let us pray that religion and science can be seen as working together to lift this burden from anyone who suffers from mental illness." You can read the full text of Maha's speech at our Staff Blog.
Rotary Club Presentation: Challenges to
American Muslims and the Work of ING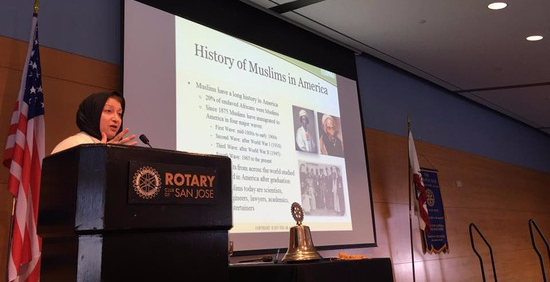 ING Executive Director Maha Elgenaidi delivered a special presentation to the Rotary Club of San Jose on Wednesday, October 4th, where she discussed challenges that American Muslims face in the current political climate. She also talked about ING's work in dispelling negative stereotypes and Islamophobia. Over 300 people attended, including local mayors, judges, and corporate leaders.
INGYouth Anti-Bullying Workshop in Sunnyvale

INGYouth Manager Ishaq Pathan conducted an Anti-Bullying Workshop at the Pacifica Institute in Sunnyvale on September 28th. Twenty students from schools across the South Bay attended to learn about various ways to respond to bullying against themselves and intervene when it comes to others.
San Jose Women's March Event: Let's Talk About American Muslims

On September 28th, ING Interfaith Coordinator Kate Chance, ING Speaker Sobia Sultan, and INGYouth Speaker Zaynab At-Taras participated in a community discussion sponsored by the Women's March of San Jose. The "Let's Talk: Muslims in America" event focused on understanding the issues faced by Muslim American families and how we can protect the safety and rights of our Muslim neighbors. You can view a video of the discussion here. Sobia speaks at the 4:24 minute mark, Kate at 34:30, and Zaynab at 47:30.