How Can We Build Resilience in Muslim
School-Aged Children and Prevent Bullying?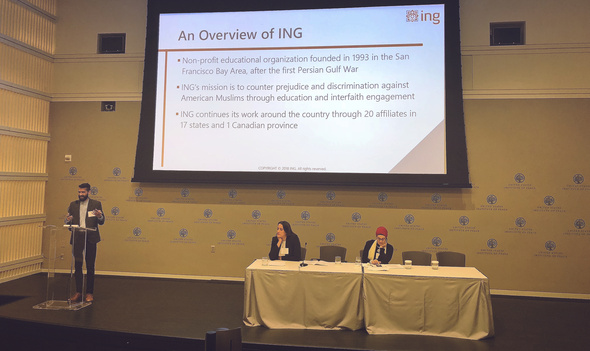 INGYouth Manager Ishaq Pathan presented on a panel for the 10th Annual Muslim Mental Health Conference, which was held at the United States Institute of Peace in Washington, D.C. He explored how the INGYouth Program builds resilience in Muslim school-aged children and how peer-to-peer education and engagement offer the strongest paths to bullying prevention in schools. You can find more resources from the INGYouth Program at our site.
Special Opportunity
Islamic Speakers Bureau Training:
March 31st in Barrington, Illinois
The Al-Azhar Islamic Foundation in Barrington, Illinois will host Islamic Networks Group staff members for an Islamic Speakers Bureau training on March 31st from 9:30 AM to 3:00 PM (Central Time). Join us and get the tools you need to answer difficult questions about Islam and to present in schools, churches, and other venues about American Muslims. Register today!
Upcoming ING Events
ING Delivers Panel on Interreligious Encounters:
March 25th in Berkeley
On Sunday, March 25th, ING Executive Director Maha Elgenaidi will present a paper entitled "Escaping Essentialism: Educating Objectively About Islam in a Time of Islamophobia" at the American Academy of Religion's Western Region Annual Meeting at the Institute of Buddhist Studies in Berkeley. Her panel will also include Interfaith Speakers Bureau members Bat Sheva Miller and Jonathan Homrighausen, who will present "Text Through Three Pairs of Eyes", Engaging Jews, Christians, and Muslims in the Study of Women in Scripture."
ISNA Education Forum Banquet:
March 31st in Rosemont, Illinois
ING Executive Director Maha Elgenaidi will present a keynote address for the Islamic Society of North America's 19th Annual Education Forum Celebration Banquet. The forum gathers hundreds of teachers, administrators and board members of full-time Islamic schools every year to discuss and exchange ideas pertaining to the further development of Islamic educational institutions in America. This year's theme is "Faith-Based Education: A Source of Hope and Healing."
Past Event Highlights
"Judging by the comments, your presentation
sure opened a lot of eyes!"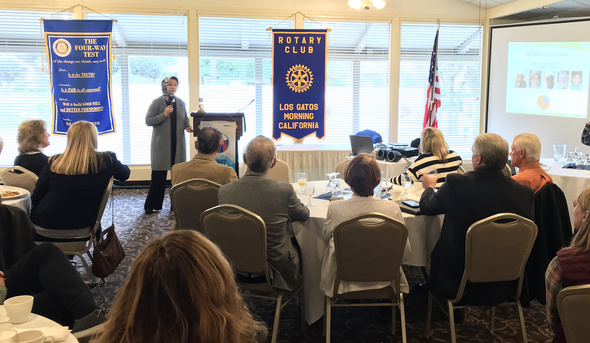 For some audiences, ING speakers might be their first chance to engage in dialogue with a Muslim. At the Los Gatos Morning Rotary Club, ING Executive Director Maha Elgenaidi recently delivered one of our core presentations "Getting to Know American Muslims and Their Faith", which some members remarked was "eye-opening". There was a lot of excitement about extending what they'd learned elsewhere; after the talk, Maha received several inquiries about repeating the presentation elsewhere in the near future! If you're involved in interfaith work or teaching about Islam and Muslims, get access to the public version of "Getting to Know American Muslims and Their Faith" at our site.
Learning About Lived Experiences of Islam
Engaging in discussion about one's lived experience as an American Muslim can be so much more meaningful than reading a chapter on Islam 101 in a book! Pictured here is ING Programs Associate Heena Haiderali delivering her very first presentation to a high school AP Language class in San Jose. The students were interested in the presentation itself, but were even more eager to hear Heena discuss her personal experiences. The Islamic Speakers Bureau is ready to bring certified presenters to your institution — request one today!
Ending Social Isolation Requires Active
Outreach Across Lines of Difference
The INGYouth Program teaches American Muslim teens that their differences can help them engage in peer-to-peer education and dialogue to create more inclusive learning environments. Click here or on the image above to see INGYouth Speaker Zaynab speaking at the Students Rising To End Social Isolation rally on the importance of reaching out across lines of difference.
From the Textbook to the Classroom:
ING Brings Islam to Life for Students
ING Content Director Ameena Jandali spoke to two Comparative Religion classes at a Catholic high school in San Francisco. Students appreciated the opportunity to ask questions and engage in open dialogue with what was previously only a textbook topic. The Islamic Speakers Bureau excels at delivering such face-to-face interactions, which have been shown to reduce negative stereotypes of Muslims.