Published Scholarly Articles and Editorials by ING
The Way We Talk About Muslim Women Is All Wrong, Says ING Communications Manager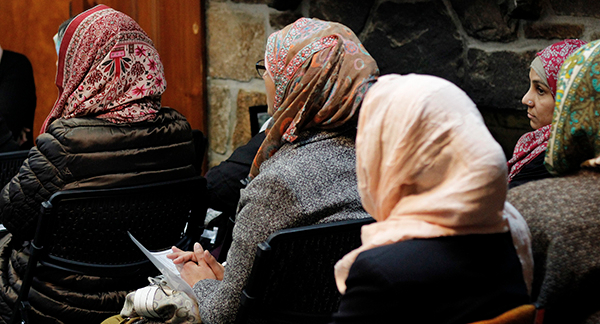 For Women's History Month, ING Communications Manager Tim Brauhn authored an article for Patheos AltMuslim where he expresses concern that over-focusing on Muslim women "superheroes" causes us to ignore millions of "normal" Muslim women around the world:
"The lack of nuance in our news cycles and Facebook arguments is a dangerous flattening tool that either mythologizes or dehumanizes the subjects at hand. It turns complex ideas like 'women,' 'Islam' and 'single-payer healthcare with Medicaid block grants' into black-and-white caricatures devoid of real information. We've got to add some color back into the conversation."
Beyond Curry and Caliphs:
ING Content Analyst Dr. Henry Millstein Co-Authors
Academic Paper in "The Muslim World"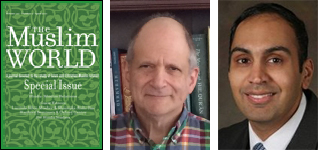 ING's Content Analyst Henry Millstein, Ph.D. has co-authored an article with Murali Balaji, Ph.D., the Hindu American Foundation's Director of Education and Curriculum Reform, for 
"The Muslim World" journal based at Hartford Seminary
. The article, titled "Beyond Curry and Caliphs: How Advocacy in Education Has Shaped Hindu-Muslim Relations in the United States", explores how Hindu and Muslim Americans have worked with educational professionals and schools to supplement the teaching of world religions in the classroom, including textbook reform efforts in California and Texas.
INGYouth and Parent Workshops
INGYouth Training in New Jersey and Pennsylvania
Attracts 65 Muslim Youth (and Media Attention)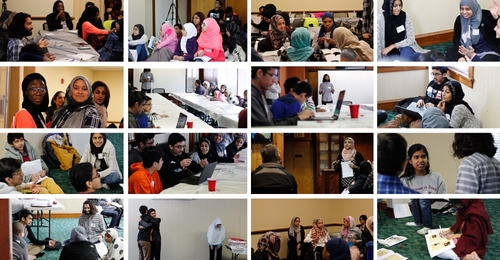 (click this image to view slideshows of the workshop)
INGYouth Coordinator Ishaq Pathan traveled to Palmyra, New Jersey and West Chester, Pennsylvania last weekend to deliver two INGYouth Speakers Training workshops in partnership with ING affiliate, the Delaware Valley Speakers Bureau, the Islamic Center of South Jersey, and the Islamic Society of Chester County. The workshops brought in nearly seventy students from area schools. One participant said: "I thought it was going to be boring because my mom forced me to come here. I had the idea in my mind that we were just going to get lectured and when we came here I was very surprised. Ishaq was very interactive with all of us, we met new people, and it was actually a lot of fun."
We also had over forty adults attend the parallel Muslim parents workshop, where they watched our recent Parent Webinar and had a lively Q&A session with Executive Director Maha Elgenaidi. Local media outlets were eager to know more about the workshops, too. You can view photos and read articles about the INGYouth Speakers Training at the Philadelphia Inquirer and the Daily Local News of Chester County. Schedule a workshop for your area at our site.
Interreligious Engagement Grows In the
Bay Area and Throughout the Nation
Muslim and Jewish Women Get Cookin'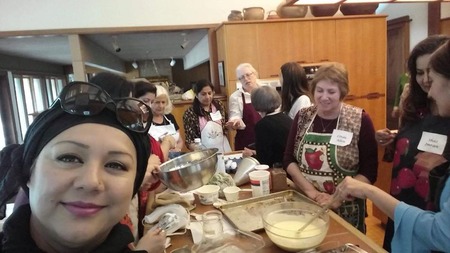 A group of Muslim and Jewish women met last weekend for a special cooking class organized by ING and Congregation Shir Hadash. The cooking series (and upcoming community dinner) will foster interfaith relationships and understanding, something more important now than ever before. And delicious, to boot! Our thanks to Muslim participant Shaz Imran Bidiwala for the great photos!
ING Speaks At Buddhist Churches of America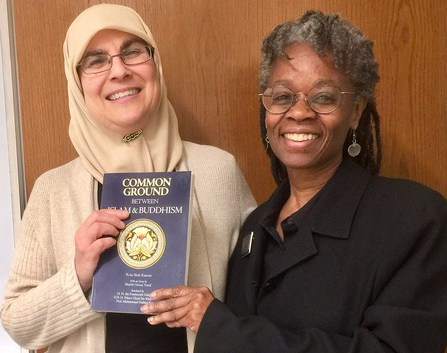 ING Content Director Ameena Jandali delivered ING's core presentation "Getting to Know American Muslims and Their Faith" for the Buddhist Churches of America (BCA) in Berkeley on March 11th. The presentation was part of the BCA's Minister's Assistant Program Seminar. In the photo above, Ameena is presented with a copy of the book "Common Ground Between Islam and Buddhism" by Edythe Vassall from the BCA.
ING Speaks at Church of Jesus Christ of Latter-Day Saints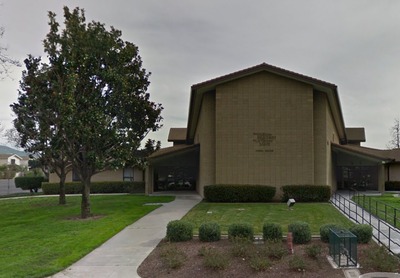 On Sunday, March 19th, ING Executive Director Maha Elgenaidi spoke to an audience of over 200 members of the Church of Jesus Christ of Latter-Day Saints, or Mormons, as they are more commonly known. Some members believed that it was the first time an "outsider", i.e. non-Mormon, spoke in their meetinghouse. The audience was incredibly hospitable and receptive to ING's teachings on Islam, Islamophobia, and Muslims, and there was much common ground between Mormons and Muslims in terms of family values and modesty. Photographs are not allowed inside Mormon sanctuaries, so the image above is the external facade of the meetinghouse.
ING Series on Abrahamic Traditions Continues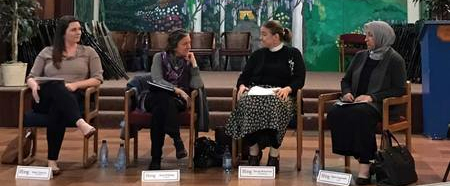 On Tuesday, March 14th, ING kicked off a new lecture series in partnership with St. Mark's Episcopal Church in Santa Clara as a way of inviting the public in a conversation about the role of religion in the public square. ING's Executive Director Maha Elgenaidi and Interfaith Coordinator Kate Chance were joined by Rabbi Amy Eilberg, the first female rabbi ordained in Conservative Judaism, and Reverend George Ann McDonnell, rector at St. Mark's Episcopal Church. The first conversation set the foundation of the series by addressing the basics of Judaism, Christianity, and Islam as they relate to each other. The second lecture on March 21st covered extremisms and fundamentalisms and the final lecture on the shared values and future of Judaism, Christianity, and Islam will be held on 
Tuesday, March 28th
.
Allyship with American Muslims at South Bay Call to Action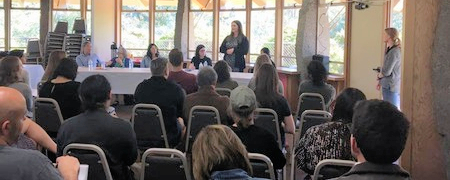 Interfaith Coordinator Kate Chance presented on ways to be an ally to the Muslim community at the South Bay Call to Action Forum (pictured above) at Congregation Beth Am in Los Altos Hills on Sunday alongside representatives of the ACLU, International Rescue Committee, Sacred Heart Community Services, and other organizations.
A Muslim Response to Threats Against A Jewish School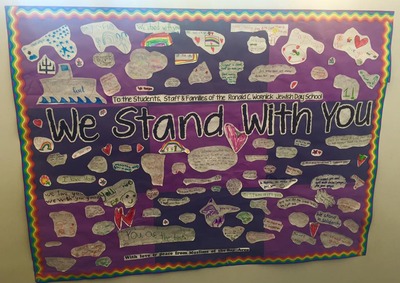 "As Muslims we understand how it feels to be scared about what our country is going through. We will win this battle, not by violence but by making our voices heard. Just know that we will be with you all the way."
ING interfaith coordinator Kate visited a local Jewish Day school, one of over 100 Jewish centers that has received such threats since January. The school principal proudly showed Kate this poster which another local Muslim school made and delivered for the Jewish students sharing their messages of love and solidarity. This is one of many acts of Muslim Jewish solidarity in response to these rampant hate crimes but we couldn't be more proud of these teachers and students for reminding us that we're all in this together. For ways to be involved in Muslim Jewish interfaith efforts be sure to check out the Know Your Neighbor: Multifaith Encounters program.