April 2nd Muslim-Jewish Halaqa-Seder:
A Celebration of Communities
Sunday, April 2
3:00 pm – 7:00 pm
Congregation Beth Jacob, Redwood City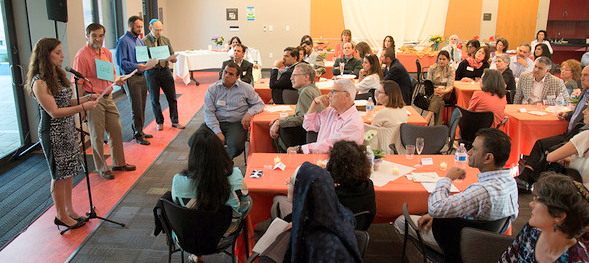 Join our Muslim and Jewish friends at Congregation Beth Jacob in Redwood City on Sunday, April 2nd for an evening of performances, dialogue, and delicious kosher/halal food. We will break bread amid dramatic reenactments of scenes from the Exodus Story in Muslim and Jewish scriptures. Tickets are $15/person. The Halaqa-Seder dinner will sell out so please purchase your tickets soon. Click the button below or
register at our site
.

Commonwealth Club Launches "Understanding Islam" Series
Moderated by Santa Clara County Supervisor Joe Simitian

ING is thrilled to announce that our staff members will participate in an upcoming three-part Commonwealth Club speaker series entitled "Understanding Islam". In addition to Maha Elgenaidi and Ameena Jandali, the panels will also feature Sumbul Ali-Karamali, the author of The Muslim Next Door and Jihad Turk, President of Bayan Claremont Islamic Graduate School. All three events will be moderated by Santa Clara County Supervisor Joe Simitian. The first event, "What Does It Mean to Be Muslim?" has been relocated to the Lucie Stern Community Center Theatre, 1305 Middlefield Rd., Palo Alto. The other two events will be held at the Embarcadero Room of the Rinconada Library in Palo Alto at 7 p.m. on May 9 and May 22.
You can find details and registration links for the individual events below or on our site. We hope that you will join us at these critically important public discussions. We expect them to sell out very soon!
Monday, April 3rd
What does it mean to be Muslim? The basics.
A discussion of Islam as a religion and an identity in modern America and abroad.
Moderator: County Supervisor Joe Simitian
Panelists: Maha Elgenaidi, Executive Director, Islamic Networks Group; Jihad Turk, ‎President, Bayan Claremont Islamic Graduate School; and Sumbul Ali-Karamali, author, The Muslim Next Door
Tuesday, May 9th
Fear of a Faith: Sharia. Surveillance. Terrorism. The Muslim Ban. What's real, and what's not?
A discussion of the policies, politics, and current events that affect U.S. understandings of Islam and Muslims.
Moderator: County Supervisor Joe Simitian
Panelists: Ameena Jandali, Content Director, Islamic Networks Group; Jihad Turk, ‎President of Bayan Claremont Islamic Graduate School
Monday, May 22nd
Women and Islam
A discussion of what it means to be a Muslim woman and how Islam intersects with gender in today's world.
Moderator: County Supervisor Joe Simitian
Panelists: Maha Elgenaidi, Executive Director, Islamic Networks Group; Sumbul Ali-Karamali, author, The Muslim Next Door