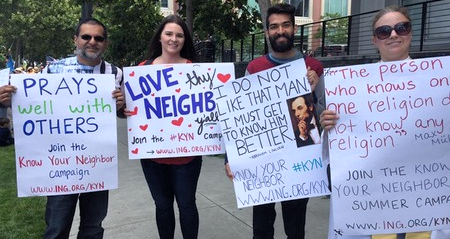 ING and 130 Local Organizations Hold Unity Rally
in San Jose to Support Muslims and Resist Hate
On Saturday, June 10th, ING staff members and volunteer speakers attended a massive Unity Rally in San Jose to support American Muslims and push back against voices of hatred and division who promoted anti-Muslim marches across the country. At the rally, ING joined 130 other local organizations to call on all Americans to reach out across lines of difference. Our staff and speakers handed out flyers and spoke to media about the recent launch of the Know Your Neighbor Summer Campaign. We even made it on the evening news.
Videos from the event are available at our Facebook Page or below, where you can hear different voices speaking about the importance of the Know Your Neighbor campaign.