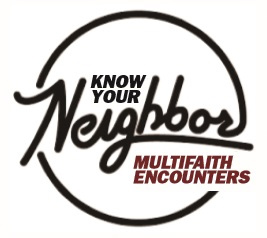 Share Your Story and Join the National Know Your Neighbor "Share Your Story" Campaign
Thursday, July 20 through Thursday, July 27
From July 20th to 27th the Know Your Neighbor: Multifaith Encounters coalition will share stories on various social media platforms to encourage Americans in all their diversity to get to know one another. When sharing your story, make sure you use the 

#KnowYourNeighbor

 hashtag.
ING Interfaith Intern Soha sharing her story
To join the national campaign, all you have to do is share a 30-90 second video or text that answers one or more of the following three questions:
What do you want your neighbors to know about you?
What experience changed the way you think about your neighbors or how they thought of you?
What do you find important about interfaith work?
Examples of videos and text can be found on the KYN Share Your Story campaign page. By sharing the stories of diverse Americans of all faiths and ethical traditions, we will learn how both our commonalities and our differences can help us come together to build a more peaceful country and world.
Please forward this message to your local houses of worship and community centers.
Are you a leader in an organization or house of worship? We have two special options for you: 
Deliver a Sermon About the Importance of Reaching Out Across Lines of Difference
You can deliver a sermon/homily/derasha/khutba about the Share Your Story campaign in your churches synagogues, temples, mosques, and community centers. We've put together a special document laying out the context for the campaign, its relevance to multiple faith traditions, and different calls-to-action for your community members to take. You can 
access our sermon talking points here
. For an example, 
listen to this sermon by Amanda Tyler
, Executive Director of the Baptist Joint Committee for Religious Liberty, one of our KYN Partners.
Post About the Know Your Neighbor "Share Your Story" Campaign In Your Organization's E-Newsletters
Promoting the campaign through your channels helps ensure the widest reach possible. We recommend copying the information below, though you can make changes as you see fit.
Know Your Neighbor (KYN) is an effort of compassionate resistance against increasing polarization in our country along political, religious, and cultural lines. Decades of social science research have shown that personal contact with members of groups you are unfamiliar with is the most effective way to dispel prejudice, and the Know Your Neighbor campaign offers tips, tools, and guides to help with that exchange. We can do better as a nation, and it begins with us!
Using the hashtag #KnowYourNeighbor, from July 20th-27th, Know Your Neighbor's "Share Your Story" campaign will bring diverse voices together to answer three important questions related to knowing our neighbors — and ourselves:
What do you want your neighbors to know about you? 
What experience changed  the way you think about your neighbors or how they thought of you? 
What do you find important about interfaith work? 
You can share your own posts and videos answering these questions on Facebook, Twitter, and Instagram with the hashtag 

#KnowYourNeighbor

, or 

#KYN

 on Twitter. Find more resources at the Know Your Neighbor Campaign page. Share your story and get to know your neighbors, too!
Jer Swigart of the Global Immersion Project sharing his story
If you're not comfortable with social media or this particular campaign, you can always utilize the pre-built resources on the main campaign page. Please feel free to contact us if you have any feedback or questions. Thank you, and we hope that you are able to participate!