Inauguration 2017
In a few short days, Donald Trump will take the oath of office as the 45th President of the United States. The election cycle itself and the last two months especially have left many people weary or even fearful for the future. But those concerns pale in comparison to the outpouring of support for not only American Muslims but other minorities as well. That friendship is welcomed and valued and more necessary than ever—just as our work is.
At ING we have been extremely busy. We have received numerous requests for presentations about Islam and Muslims. We have had an unprecedented number of internship, volunteer, and partnership applications and offers. Fundraising efforts have met with great success. We have seen an emergent America that is deeply concerned with humanitarian and civil rights issues, that values its diversity, and that reaches across lines of religious difference for the common good. We look forward to working with you in the coming year to strengthen the reach of the values and principles that we cherish and hold in common.
As always,
The staff of ING
(Maha, Ameena, Henry, Marcia, Monica, Lily, Ishaq, Kate, Hind, Aaron, Steve, and Tim)
Challenging Islamophobia Course at
University of California, Santa Cruz
ING CEO Maha Elgenaidi delivered a course on "Challenging Islamophobia" to forty staff and educators at the University of California – Santa Cruz on January 12th. The course, part of the university's diversity and inclusion program, examined how Islamophobia is generated and disseminated and its impact on the Muslim community (and on other minority communities), especially on young people. The course also included tools and strategies for ending irrational fear of Muslims.
Finding Connections:
Jews and Muslims Study Texts Together
ING CEO Maha Elgenaidi and ISB Speaker Ismael Nass will join members of Congregation Beth Jacob in Redwood City on Friday, January 13th to discuss textual resources related to Islam and its teachings. The evening's discussion will focus on an essay from "The Quranic View of Sacred History and Other Religions", by Joseph Lumbard, as well as passages from "The Study Quran." Congregation members will have the opportunity to ask the speakers in-depth questions about their religion and those that follow the Islamic faith. This is a wonderful opportunity to grow interfaith connections and increase dialogue between the Jewish and Muslim communities.
Support and Friendship Between
Catholics & Muslims
January 16th in San Jose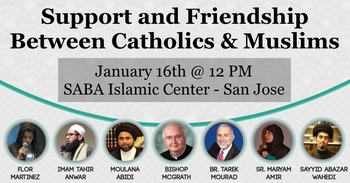 Please join us at this exciting community event on January 16th at 12:00 PM at the SABA Islamic Center, where San Jose Diocese Bishop McGrath, who leads over 50 Catholic churches in Santa Clara County, will join Imams from Bay Area mosques and civic leaders on Martin Luther King, Jr. Day to mark the start of a Muslim-Catholic partnership. Sponsored by ING, the event will include joint prayers, ideas for dialogue, and unity between the two communities in serving humanity while seeking justice and fairness for all. There will also be a light lunch.
January 19th Webinar for Muslim Parents:
Prevent Bullying in Schools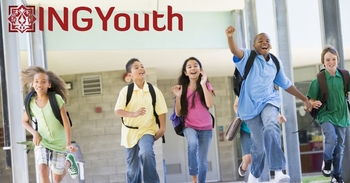 We're excited to invite you to an upcoming Back-to-School webinar for Muslim parents. ING staff will provide updates on the current political environment for American Muslims and investigate strategies and tools for educational resources and ways to prevent teasing and bullying of Muslim students. Note: This webinar takes place from 7:00 pm – 8:00 pm Pacific Standard Time. You can register for the webinar on our site.
Women's March Bay Area:
Find ING Directors on January 21st in
San Francisco and San Jose

An outcome of the presidential election was to unleash new political energy nationwide becoming visible with simultaneous Women's Marches in Washington, DC and across the nation. On January 21st, 2017, the day after the inauguration, those concerned with human rights, the environment, justice, and democracy will gather in a show of unity at a time those rights are being threatened. This is a nonpartisan event acknowledging that women's rights are human rights. ING CEO Maha Elgenaidi will speak at the San Jose Women's March and Content Director Ameena Jandali will speak at the San Francisco Women's March.
Upcoming Opportunity Reminders:
NEH Summer Seminar:
Muslim American Identities, Past and Present
What does it mean to be both Muslim and American? As K-12 teachers, you are invited to explore this fascinating and important question this July in Indianapolis. You will read compelling texts and conduct engaging field trips as you study the diverse facets of Muslim American identity, both as grounded in the past and as experienced in the present. Apply soon!
Religious Worlds of New York:
Teaching the Everyday Life of American Religious Diversity
Calling all K-12 teachers at public, private, and faith-based schools! Religious Worlds of New York: Teaching the Everyday Life of American Religious Diversity will bring 25 teachers from throughout the United States to New York City this July to work with leading scholars of religion, meet with diverse religious leaders, visit local houses of worship, and explore the religious life of the city. For more information and application materials, please visit www.religiousworldsnyc.org.
January 16th-20th is No Name-Calling Week:
Stream GroundSpark Films for Free
Students across the country have experienced increased levels of bias-based bullying connected to the tenor of the presidential race and its aftermath. That's why this year's 
No Name Calling Week
 is more important than ever. Groundspark is 
offering free streaming of their Respect for All Project films
 for the entire month of January! These highly-acclaimed documentaries (each targeted at a different age group) are excellent discussion starters and professional development as well.