The audience numbers for ING's presentations and training seminars have been growing steadily and dramatically since 2012, as shown by the accompanying charts. The audience for the
Islamic Speakers Bureau
has grown more than threefold, while the audience for
Interfaith Speakers Bureau
panels has grown by a factor of almost three and a half in the same period. This demonstrates a sharply growing public interest in both Islamic and multifaith education—good news as we look to the challenges ahead in a multifaith nation and a multifaith world.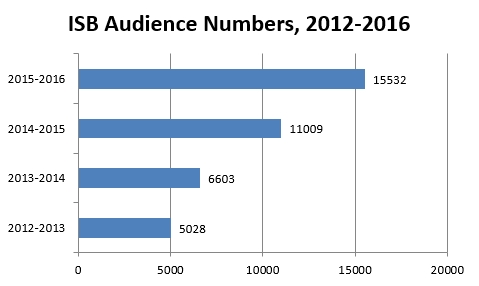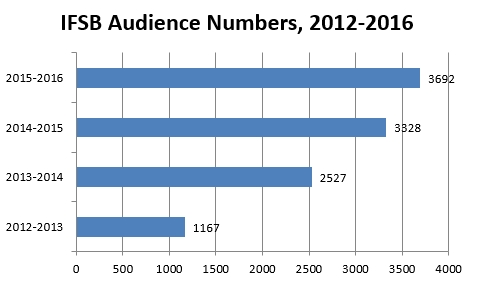 It's worth noting that ING has not done any marketing of our presentations in the past three years; this growth in audience numbers is due largely to word-of-mouth recommendations by those who have experienced ING presentations, which testifies to the quality of our work.
Audiences and Requesters Continue to
Give ING Presentations High Marks
The evaluation form filled out by audiences after Interfaith Speakers Bureau panels asks audience members to evaluate the overall quality of the presentation on a scale from 1 (poor) to 4 (excellent). As shown in the chart below, audience ratings have on the whole been improving over the past four years.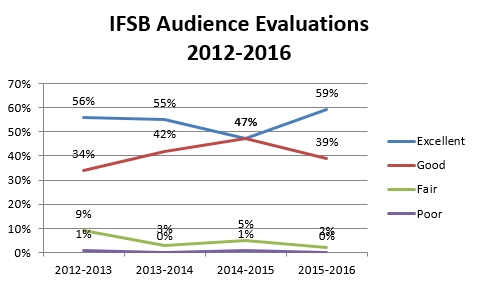 Requesters of presentations also have the opportunity to evaluate the quality of both content and speakers. In both those areas, requester ratings have shown an upward trend over the past four years, as shown by the charts below. The first chart below shows how well requesters felt the content conveyed what they hoped to convey, the second their rating of speakers' overall effectiveness, and the third their evaluation of how well the speakers connected with their audience.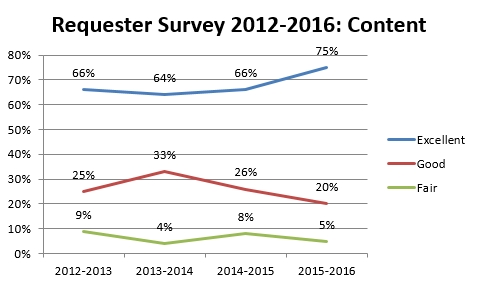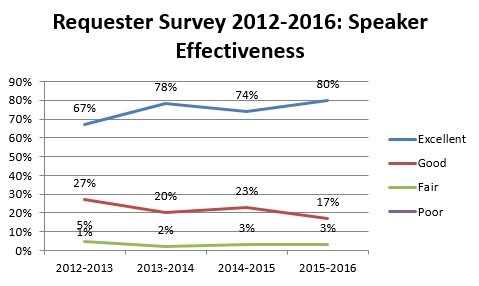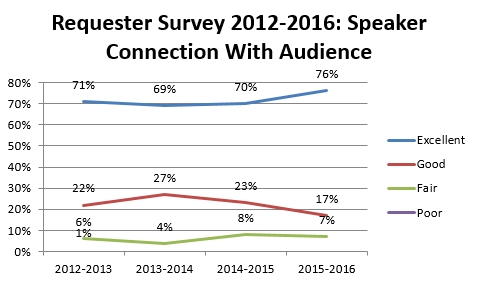 In short, ING's reach extends well beyond the San Francisco Bay Area, and even beyond the areas reached by our Affiliates; our audience and impact is nationwide.
Presentations Continue to Change Attitudes
The ultimate test of ING's effectiveness in combating bigotry and promoting interreligious and intercultural understanding is the power of our work to change attitudes. ING's record here is consistent, as shown by the surveys of audience attitudes toward Islam and Muslims that we administer before and after school presentations of the ISB's introductory presentations, Exploring Muslim Traditions and Practices (for middle school) and Getting to Know American Muslims and Their Faith (for high school and adults).
The surveys ask five questions about attendees' understanding and perception of Islam and Muslims, with a total of 30 possible answers and no limit on the number of answers selected. ING designed these questions to track audience attitudes about six areas that are often stereotyped by the general public. Of the 30 responses in the survey, 15 are "Muslim positive" (for example, "Islam promotes peace") and 15 are "Muslim-negative" or Islamophobic (for example, "Islam promotes terrorism").
ING presentations over the past two years have brought about a sharp reduction— over 86%—in the frequency of Islamophobic responses, as shown in the accompanying chart.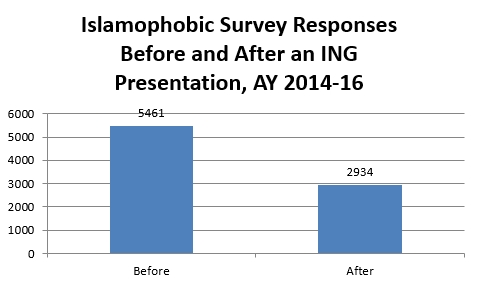 ING presentations have proven effective at dispelling common stereotypes about Muslims and their faith. Survey data from the past two academic years shows that after an ING presentation:
The percentage of those believing that Islam promotes terrorism falls by 60%.
The percentage of those believing that Islam promotes violence falls by 66%.
The percentage of those believing that Muslims are intolerant of other religions falls by 60%.
The percentage of those believing that Muslims are not true Americans falls by 43%.
The percentage of those recognizing that Muslims have long been part of the history of our country rises by 33%.
The percentage of those believing that Islam promotes the oppression of women falls by 53%.
The percentage of those believing that Muslims view women as inferior falls by 55%.
ING Audiences Testify to the Power of Our Work
Data alone cannot convey the power of the face-to-face encounters that ING fosters. So we want to close by presenting some representative comments by requesters and audience members about their experience of ING presentations and panels.
From requesters of ISB presentations:
Your speakers are fantastic, engaging and informative, and patient and enthusiastic.
— Middle school teacher, San Mateo
My students appreciated getting to interact with, ask questions of, and learn from an intelligent and engaging Muslim presenter. This positive interaction will go a long way in combating stereotypes. — Elementary schoolteacher, Davis (via webinar)
We have many Jewish members and they were astounded by the information. Their fears were put at ease. — AAUW member, South San Francisco
Maha received a heart-felt standing ovation. This is either very rare –or it has never happened with our group. So, "outstanding" may start to characterize the group's evaluation. — Kiwanis Club member, Palo Alto
From audiences of IFSB panels:
What surprised me was how all these people with different beliefs can hang out with each other and not debate. — High school student, San Jose
I now see that people in all religions believe in love. — High school student, San Jose
Every religion is amazing. — Middle school student, Pacifica
New Volunteer Speakers Join ING
We're also excited to announce that we've added 9 new volunteer speakers this year in both the Islamic and Interfaith Speakers Bureaus. This is significant due to the rigorous training and certification process they go through to be one of our presenters. Speaker bios are listed here.
Will you join us in bridging the divides among Americans?
Every gift counts, whether it's $1,000 or $10 a month; your contributions made online go directly to our programs.