With an unprecedented level of Islamophobia, the demand for ING's work in education about Islam and Muslims, as well as our interfaith engagement, has never been more important to prevent prejudice and discrimination. With 50 volunteer speakers in the Bay Area alone, we were extremely busy this past year. What follows is a small sampling of ING's output and impact since the start of the academic year, which we hope will inspire you as it does us to continue investing in ING.
Here is a small sampling of ING's output since the start of the academic year, Sept. 1, 2015:
We spoke to 25,000 people face to face in 426 groups in the Bay Area, ranging each in audiences between 30 and 500, through face-to-face presentations, training seminars, panels, and webinars.
Here is a sampling of where we presented and your investments at work:
62 middle and high schools across the seven Bay Area counties, reaching thousands of students and dozens of teachers, where we supplemented studies on Muslims and their faith in Social Studies classrooms.
20 colleges and universities — including Stanford University, Santa Clara University, San Jose State University, UC Santa Cruz, Cabrillo College, West Valley College, Diablo Valley College, City College of San Francisco, Holy Names University, Notre Dame de Namur University, University of San Francisco, St. Mary's College of California, Pacific School of Religion, Dominican School of Theology and Philosophy, Jesuit School of Theology, the Graduate Theological Union, and UC Berkeley — where we supplemented global studies relating to the Muslim world.
45 Buddhist, Christian, Jewish, and interfaith congregations or organizations — including Parliament of the World's Religions, Interfaith Council of Contra Costa County, Interfaith Council of Sonoma County, San Francisco Interfaith Council, South County Interfaith Community, Berkeley Buddhist Temple, Chung Tai Zen Center, Berkeley United Methodist Church, Calvary Episcopal Church, First Presbyterian Church of Livermore, Holy Cross Episcopal Church, Piedmont Community Church, Progressive Christian Forum of Santa Cruz, San Ramon Valley United Methodist Church, Santa Teresa Catholic Church, Stone Church, Jewish Community Relations Council, Addison-Penzak Jewish Community Center, Temple Isaiah, Temple Emanu-El, and Unitarian Universalist Church of Berkeley — where we presented on a variety of topics relating to Muslims and their faith.
14 training seminars for leaders which have included:

For law enforcement: trainings for the UC Berkeley Police Department and the UC San Francisco Police Department;
For healthcare institutions: trainings for San Francisco General Hospital and the San Mateo County Behavioral Health and Recovery Services;
For educators: trainings at several schools as well as Mt. Diablo Peace and Justice Center, the Manchester, NH, school district; and Notre Dame de Namur University in Belmont.

Several public presentations on Islam and women under the auspices of the Kiwanis Club of Palo Alto, the Fremont Rotary Club and the American Association of University Women.
Two conference events on combating Islamophobia for the Japanese-American Citizens League and the Mt. Diablo Peace and Justice Center.
Presentations on Muslims and Contemporary Issues at senior centers, including Avenidas (Palo Alto), Moldaw Residences (Palo Alto), and Villa Marin (San Rafael).
Sample responses from audience members:
"My students appreciated getting to interact with, ask questions of, and learn from intelligent and engaging Muslim presenters. This positive interaction will go a long way in combating stereotypes." —Elementary school teacher, Davis
"We have many Jewish members and they were astounded by the information your speaker provided about Islam. Their fears were put at ease." –AAUW member, San Francisco
"Good interactions with those in attendance, good questions and very good responses by the presenter. It was well done, and people were very appreciative of the presentation." —Catholic faith leader, San Jose
 "Now we have a greater appreciation and respect for people like your Muslim speaker, who takes the time to still pray 5 times a day in our busy society." —Middle school student, Pacifica
"Up until today, I thought Islam was about the 5 pillars because that's all we hear about. I had no idea that Islam was Abrahamic or that you shared our values. Comforting to know." —Christian congregant
ING's Interfaith Speakers Bureau delivered panels to 57 classrooms and other venues, to a total audience of over 4,000 people. Highlights of the panels included the following:
Three Muslim-Jewish Halaqa-Seder events, with some 250 participants combined, jointly sponsored by ING and the Jewish Community Relations Council
A Christian-Muslim retreat for women of Stone Church, San Jose
A Buddhist-Muslim dialogue event at the ChungTai Zen Center in Sunnyvale
A panel on "Religion and Extremism" at the Lafayette-Orinda Presbyterian Church
A Muslim-Christian conversation on "Mary, Hagar, Sarah and Their Sons" at San Ramon Valley United Methodist Church
A panel on "Shared Values Among Faiths" at the First Presbyterian Church of Livermore
A panel following the performance of the play "Wrestling Jerusalem" in San Francisco
An interfaith panel on religious pluralism for CADRE (Collaborating Agencies' Disaster Relief Effort) in San Jose
An interfaith Thanksgiving service at Stone Church, San Jose
A panel for University Interfaith Council Safe Space Dialogue at UC Santa Cruz
Sample responses from audiences from Interfaith panels:
"I enjoyed the idea that people of different religions can get together and embrace their differences rather than argue or ignore each other." —College student, San Jose
"I realized that most religions have similar values and goals." —Middle school student, Pacifica
"I enjoyed learning about how Islam, Judaism, and Christianity are all connected to each other." —High school student, San Jose
"After the presentation my eyes definitely opened up. Being Catholic I didn't understand completely how some religions worked, and now I'm more educated." —Middle school student, Pacifica
"I enjoyed their charisma and respect. Loved their enthusiasm and passion for speaking about their religion." —College student, San Jose
Since we launched our INGYouth program in 2015, at the urging of Muslim parents, we've held 12 workshops for 600 Muslim students in five states.
ING has participated in a number of high-level meetings with government officials and other leaders. Among the most notable was ING's participation in the White House meeting that initiated the Know Your Neighbor Coalition, designed to build interreligious and intercultural encounter and cooperation; ING was tasked with creating the grassroots dimension of this campaign, Multifaith Encounters.
Other important state and federal meetings in which ING contributed content and strategies, include:
White House Convening on "Celebrating and Protecting America's Tradition of Religious Pluralism," which led to a Dear Colleague letter to educators nationwide by the Secretary of Education, Arne Duncan;
"Building Communities of Trust" with the Northern California Regional Intelligence Center that consists of law enforcement agencies and community groups;
California State Commission on Police Officers and Training (POST) meeting to help create new hate crimes training videos and materials.
We know it is, from the audience surveys that we do. To give but two examples, results from September through December 2015 show that after an ING presentation:
The percentage of students believing that Muslims view women as inferior drops from 20% to 7%.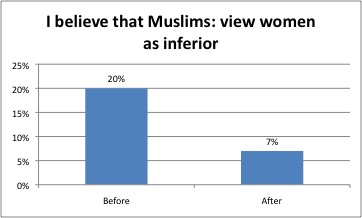 The percentage of students aware that Muslims "have long been part of the history of this country" rises from 42% to 62%.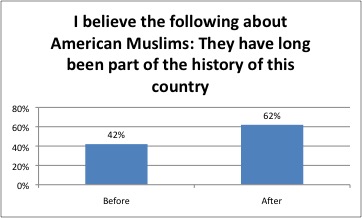 For more detailed information on impact, visit our Impact Page.
All of the aforementioned activity represents ING in the San Francisco Bay Area alone. Our affiliate network around the country has continued to expand this past year and now includes 24 affiliates (regional ING-like organizations) in 20 states and one Canadian province. Affiliates operate in all the major regions of our country, including the West, the Midwest, the Southwest, the South, and the East Coast. ING is truly a national operation and a national presence. With your help, we can further broaden and deepen our reach to expand the important work of educating about Muslims and their faith, as well as their relations to other groups while challenging stereotypes and bigotry.
As always, thank you for your support of ING and its work in education and interfaith engagement.
Ameena Jandali
Content Director

Click links below to: