ING Director Participates in Department
of Homeland Security's 2018 Digital Forum
Lifting up the need for addressing white supremacist extremism, ING Executive Director Maha Elgenaidi participated in a day-long Department of Homeland Security Digital Forum on Terrorism Prevention, which was convened by Secretary Kirstjen Nielsen and Amber Rudd, the Home Secretary of the United Kingdom. The day was spent in conversation with internet companies on online counter-messaging, research trends and tools, and terrorism prevention for which ING content is useful in countering flawed interpretations of Islam through inter-religious literacy and engagement.
ING Joins Congressional Letter in
Support of the Johnson Amendment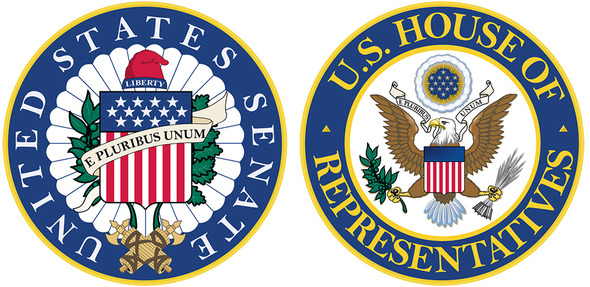 ING is proud to join 145 other organizations across the country in a recent letter to the Senate and House Committees on Appropriations urging them to resist attempts to weaken the Johnson Amendment, which has kept America's religious institutions separate from rancorous political endorsements for 60 years. Read the full letter here.
Upcoming ING Events
The Muslim American Experience:
February 20th in Davis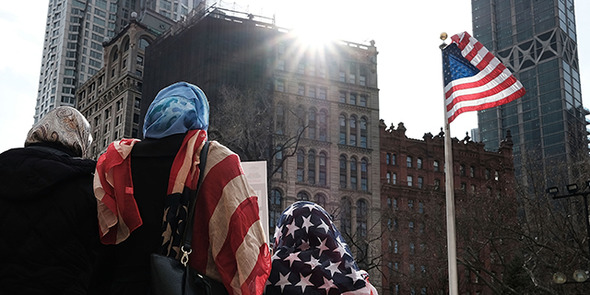 On Tuesday, February 20th, ING Content Director Ameena Jandali will discuss Islamophobia in America for the University of California at Davis' Diversity Dialogue Series on the Muslim American experience.
Getting to Know American Muslims and Their Faith:
February 20th in San Francisco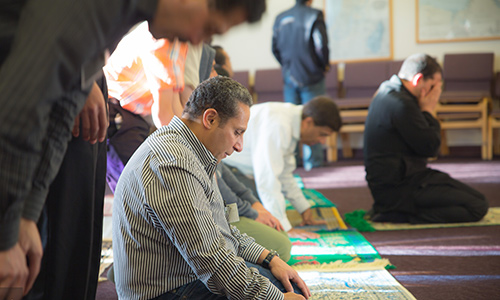 On January 20th, ING Executive Director Maha Elgenaidi will deliver one of our core presentations "Getting to Know American Muslims and Their Faith" for the First Unitarian Universalist Society of San Francisco. The presentation provides an introduction to Islam as Muslims actually believe in and practice it, and also addresses common misconceptions relating to extremism, women's rights, and Muslims' views on religious pluralism.
Removing the Stigma Around Bullying:
Special Webinar on February 21st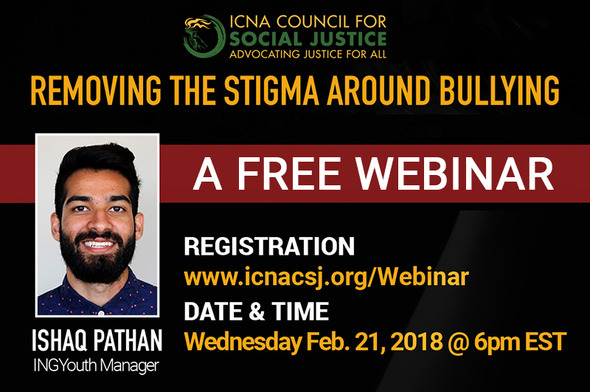 ING is partnering with the ICNA Council for Social Justice for their special webinar series focused on school bullying. INGYouth Manager Ishaq Pathan will present the second session "Removing the Stigma Around Bullying" on Wednesday, February 21, 2018 at 6 PM EST. The webinar will explore how to safely and effectively push back against school bullying. Find more information and registration here.
Being a Muslim Woman in America Today:
February 24th in Seaside

On Sunday, February 24th, ING Executive Director Maha Elgenaidi will deliver this interactive presentation for the American Association of University Women's Interbranch Council. The presentation will explore contemporary issues facing American Muslim women.
Past Event Highlights
Do Muslims and Jews Get Along?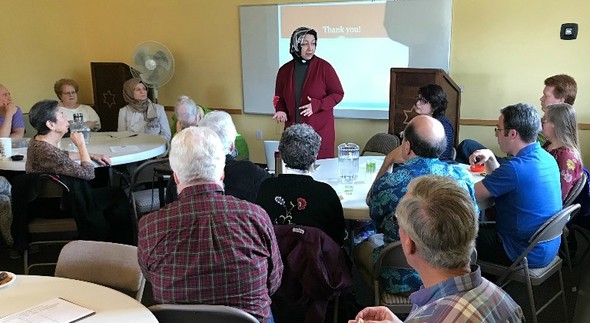 Do Muslims and Jews get along? According to ING Executive Director Maha Elgenaidi, they have a long history of allyship in the Bay Area and all across the country. She recently spoke at Congregation Etz Chayim in Palo Alto on the various ways Muslims and Jews work together. You can read some of Maha's writing on the subject of Muslim-Jewish relations at our staff blog. Find out more about ING's interfaith work here.
Muslim Youth Speakers Meet With Jewish
Counterparts to Talk and Eat Cookies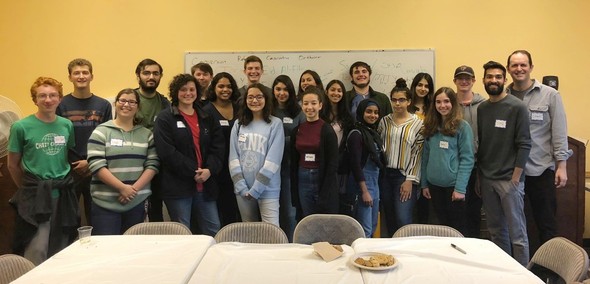 Young Muslims and Jews don't often feature prominently in narratives about peacebuilding, but that doesn't mean they're not busy. Here are INGYouth Speakers meeting with Jewish teens to discuss their shared experiences as religious minorities. We're working on a project for both groups to help model interfaith cooperation in their schools. Visit our site for more information on the INGYouth program.
"It Was Refreshing to Get Honest Answers to My
Honest Questions About Islam or Muslims."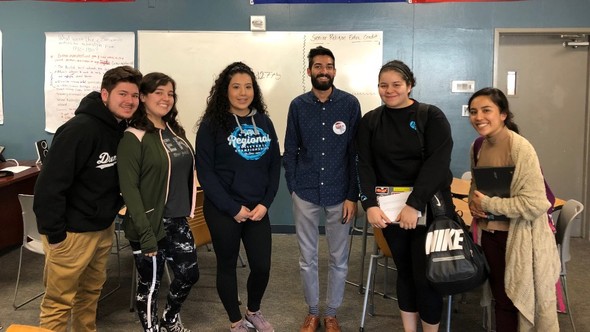 INGYouth Manager Ishaq Pathan visited a high school in San Jose to deliver one of our core presentations "Getting to Know American Muslims and Their Faith" to two senior religion classes. Students were very appreciative to learn about their Muslim neighbors in a setting where they could ask pointed questions — and get clear answers! Learn more about the public presentations that ING provides here.
Student Speaker Offers Educators Important
Strategies for Safe Learning Environments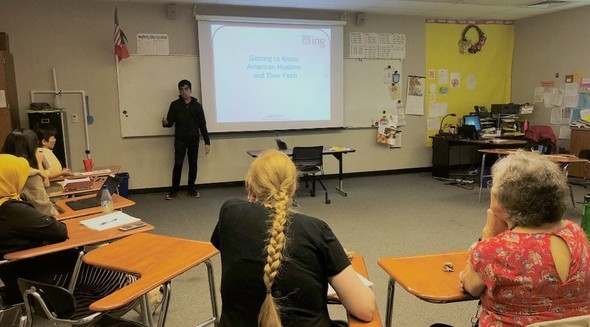 How do you become an ING-certified Muslim teen speaker? INGYouth Speaker Sarim is one of 90 such speakers across the country. Here he is giving a presentation to educators and administrators at his school about American Muslims and their faith. Learn more about INGYouth and our Speaker Certification training here.
Special Opportunities
​

ING Internships and Fellowships for Spring & Summer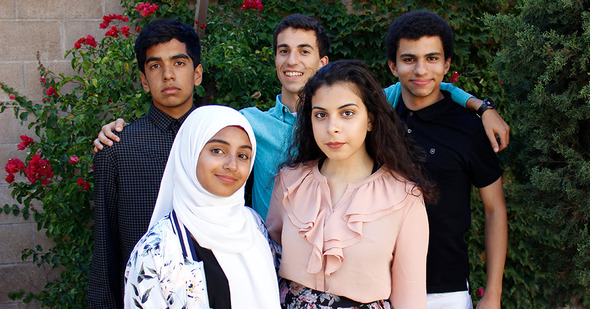 ING's internship program offers a variety of opportunities to learn about the different functions involved in managing and operating a non-profit organization. Interns gain knowledge related to increasing religious literacy and cultural awareness in our communities through ING's educational programs and presentations. Interns also receive practical training in project management, community outreach, research, writing, and other administrative assignments while working with our professional staff. If you're a student looking for real-world experience, please consider interning with us!
Every year, ING's Teen Fellowship program selects a cohort of highly-driven high school students and puts them in a position to deliver impact for our programs. Teen Fellows work on in-office projects during school breaks, participate in online brainstorming and feedback sessions to help craft future programs, and provide important assistance for local events and national campaigns. To learn more, visit the Teen Fellows page.