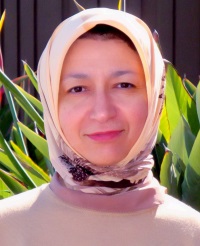 Dear friends and supporters:
After 20 years of dedicated leadership at ING, our founding president and CEO, Maha Elgenaidi will be transitioning to a new role on the board of trustees where she will lead the creation of an endowment for the organization.
As many of you know, Maha has dedicated most of her professional life exclusively to ING. She founded the organization in 1993 to address the growing misconceptions about Islam and Muslims in the media and general public that increased as a result of political events and issues during and after the first Gulf War.
Her decision to transition stems from her interests in furthering her studies in religion as she pursues a graduate degree at Stanford University.
We are deeply grateful to her for her 20 years of service and visionary leadership that has made ING an important institution in the country with 22 affiliates that carry out our mission throughout the country.
As the organization's Board of Trustees and Board of Directors are seeking a new permanent executive director, the senior management team consisting of Ameena Jandali, founding member and director of content, Ali Rangwala, operations director, and Rehmat Kharal, development manager will oversee and supervise ING operations and staff. You can read staff bios here.
New Chairs of Boards
We are also pleased to announce that Sabahat Rafiq is the new Board of Trustees Chair and David Renie is the Chair of the new Board of Directors. Read Sahabat's bio and David's bio.
The Search for a New Executive Director
The search for a permanent Executive Director will be led by Naeem Raza, the chairman of ING's transition committee. If you or someone you know is interested in the position, please reference the listing below.
We are confident in ING's future, and our boards of Trustees and Directors are committed to finding a leader who will help us to build on Maha's legacy. We invite you to download the job posting and join our search for a new Executive Director.
Thank you again for your involvement and support.
Best regards,
Sabahat Rafiq, Chairperson, Board of Trustees
Javed Patel & Randy Pond, Trustees and former Co-Chairs
David Renie, Chairperson, Board of Directors
Naeem Raza, Chairperson, Transition Committee