220 Media Articles in 33 States on ING's Peace-Building Programs
Countering Islamophobia, while promoting religious freedom and interfaith harmony, ING programs were featured in 220 articles in 33 U.S. states and one territory (Guam) as well as India, Indonesia, and the United Kingdom internationally. We've highlighted a few recent articles below — to get the full rundown visit our ING in the News page.
Keeping the Faith: Female Religious Leaders in the Nob Hill Gazette
Noted San Francisco philanthropist Janet Reilly hosted ING Executive Director Maha Elgenaidi, Reverend Dr. Ellen Clark-King of Grace Cathedral, Reverend Elizabeth Ekdale of St. Mark's Lutheran Church, and Rabbi Beth Singer of Congregation Emanu-El for a conversation on how they keep hope alive in trying times. You can read the article at our site.
INGYouth Manager Ishaq Pathan Writes for USA Today
INGYouth Manager Ishaq Pathan published an article in USA Today equating the normalization of hate with simple schoolyard bullying. The article was syndicated to eighteen news outlets in fifteen states. Ishaq says, "By itself, negative public sentiment toward Muslims is dangerous, but when it's combined with messaging like the videos produced by organizations such as Britain First and retweeted by our nation's president, it can be a perfect storm for Muslim and other youth, normalizing hate and leading to increased bullying of Muslim students or students assumed to be Muslim."
Maha Elgenaidi Op-ed in the San Francisco Chronicle with Episcopal Priest
ING Executive Director Maha Elgenaidi co-authored an opinion article in the San Francisco Chronicle with the Reverend Matthew Dutton-Gillett, an Episcopal priest, exhorting mainstream Christians to stand up against religious bigotry and build friendships with Muslims in their communities. They say, "This is a call to join us in this effort. It is specifically a call to white mainstream Christians, whose identity has been dangerously co-opted by divisive forces in our politics and media. Extremists in both Islam and Christianity can claim ownership of their respective faiths all they want, but they can never co-opt our moral courage to stand up and do what is right."
San Jose Mercury News Cites ING in Forceful Editorial
About Anti-Muslim Bullying in Our Schools
The Editorial Board of the San Jose Mercury News spoke forcefully in their article, "Trump's anti-Muslim bullying is trickling down to local schools," which prominently mentioned ING's programs for educators and school staff and speaks to how busy we've been since the fall started: "The Islamic Networks Group, or ING — a San Jose-based nonprofit with the mission of combating bigotry and conducting interfaith initiatives in the Bay Area — has visited 217 classrooms just since Sept. 1. They teach students and staff about Muslims and train Muslim youth to be educators in their schools, all aimed at neutralizing bullying."
Content Manager Hank Millstein on Advent
The Christian season of Advent started this Sunday, December 3rd, and runs through Christmas Eve on December 24th. ING Content Manager and Programs Analyst Hank Millstein has penned a beautiful note on the meaning of Advent for all people in this busy age: "Advent, then, is a training in hope; it teaches us to look beyond the inadequacies of the present to an infinite future. That's not to say that it devalues the present; on the contrary, I'm convinced that too many of us have no present that seems worth living because we have no future worth hoping for. Only when hope illuminates the joys of the present can we truly enjoy them."
Special Event: Join Us As A Speaker!
Register for Our Training Workshop in San Jose:
Saturday, December 9th – 9 AM to 3 PM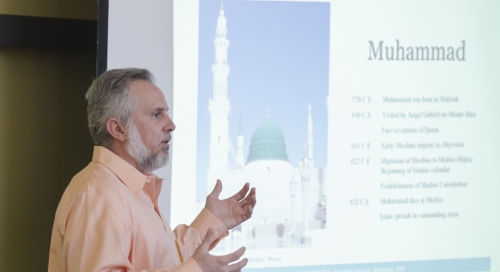 In the current climate of rising Islamophobia, we need more volunteers to join the Islamic Speakers Bureau in the San Francisco Bay Area. Take the first step toward dispelling negative stereotypes about Muslims through public presentations and attend our training on Saturday, December 9th, from 9:00 AM—3:00 PM at our office in San Jose. If you're interested in gaining certification as a speaker but you live outside the Bay Area, please contact us at [email protected] There's a possibility that we can connect you with a regional affiliate!
New ING Affiliate in West Virginia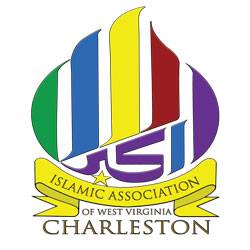 INGYouth Manager Ishaq Pathan traveled to Charleston, West Virginia last month to hold a Teen Empowerment Workshop and Youth Speakers Workshop for young Muslims in the area (read about the training in the Charleston Gazette-Mail). At the same time, Executive Director Maha Elgenaidi delivered a new affiliate training at the Islamic Association of West Virginia. We're happy to announce that this group of newly-certified speakers has opened our newest ING affiliate in Charleston!
Over 70 INGYouth Speakers Across the Country (VIDEO)
Since the beginning of the year, the INGYouth Program has certified seventy-four Muslim teens in eight states as INGYouth Speakers. They've undergone rigorous training and testing on public speaking, answering difficult questions about their faith, building interreligious coalitions, and other effective anti-bullying interventions. INGYouth Manager Ishaq Pathan noted, "It's been incredible to watch these young Muslims develop a high level understanding of the nuances of religion and gain confidence through that understanding. Time and time again, my peers and I reflect on how we wish we had programs like this growing up in America." To learn more about the INGYouth Program and our INGYouth Speaker certification process, check out our site.
ING Conducts Educator Training on "Know Your Classmates"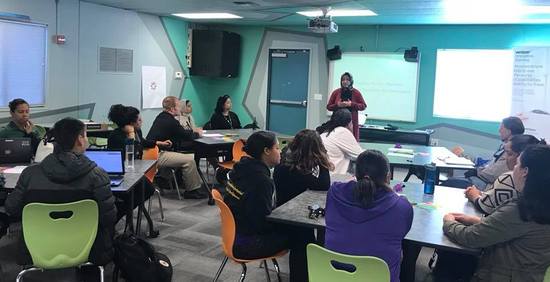 In response to bullying and anti-Muslim bigotry, ING Executive Director Maha Elgenaidi and Beyond Differences Education Director Air Gallegos conducted an educator training at a San Jose middle school on "Know Your Classmates," a school program inspired by the Know Your Neighbor program that provides tools and resources for building inclusive communities.
National Interfaith Anti-Bullying Summit Brings Together
Educators, Policymakers, and Activists

ING Content Director Ameena Jandali and INGYouth Manager Ishaq Pathan traveled to Washington, DC last weekend for the first-ever National Interfaith Anti-Bullying Summit which ING co-sponsored with the American Muslim Health Professionals. Ishaq presented our research on "Countering Bullying Through Empowering the Target Audience" and Ameena Presented on "Countering Prejudice and Bullying through Interactive Education". The Summit brought together educators, activists, policymakers, authors, and parents from a variety of religious traditions to discuss best practices toward ending bullying based on religious identity.
Upcoming Events


Interfaith Panel on Women and Religion:
December 10th in Sunnyvale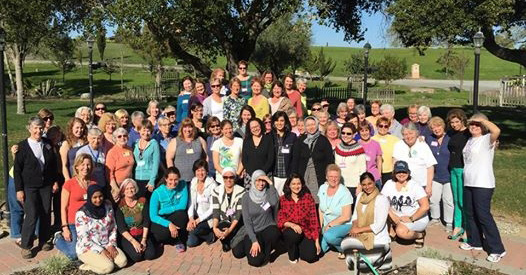 This Interfaith Speakers Bureau panel, sponsored by the Silicon Valley Interreligious Council and hosted by the Pacifica Institute, will explore the relationships between women and their respective religions. Panelists include: ING Interfaith Manager Kate Chance (facilitator), Tenzin Chogkyi (Buddhist), George McDonnell (Christian), Sulochina Lulla (Hindu), Rabbi Amy Eilberg (Jewish), and ING Executive Director Maha Elgenaidi (Muslim).
---
Consider ING in Your Year-End Giving
We know that in the midst of all the bad news there is still hope — the same hope expressed by all our religious and ethical traditions. Please consider a gift to support our national work in countering religious bigotry. ING recently appeared on this great list from HelloGiggles "Support these 9 Muslim organizations to combat Trump's racist anti-Muslim retweets", which offers further evidence of the worth of our groundbreaking programs.