ING Delivers Cultural Competency Training
at UC Berkeley Police Department
and Chaplaincy Institute
The law enforcement seminar, a 4 hour training titled Working with American Muslim Communities, began with a discussion of common stereotypes about Muslims and their faith and resultant hate crimes committed against them in a post 9/11 environment. This was followed by an overview of Muslim demographics, practices and traditions, pertinent contemporary politics and issues and their implications for law enforcement work. The seminar also addressed protocols for interaction with both individuals and community institutions, and provided law enforcement leaders the opportunity to share their policies and experiences serving Muslim student members of the campus. The seminar ended with a discussion of opportunities for cooperation.
The healthcare seminar, a 2.5 hour training titled Healthcare for the Muslim Patient, addressed implications of Muslim demographics, practices and traditions on healthcare delivery. Topics included Islamic perspectives towards illness and healthcare, family systems, decision making processes, dress codes, privacy and gender issues, dietary guidelines, women's healthcare including reproductive issues and labor and delivery, Islamic views on death and dying, end of life issues, emergency treatment, life support, terminal illness and palliative care. There were ample opportunities for questions and comments throughout the seminar allowing participants to share their current policies and experiences caring for Muslim patients.
ING Presents at Muslim Youth
of North America Camp in Sausalito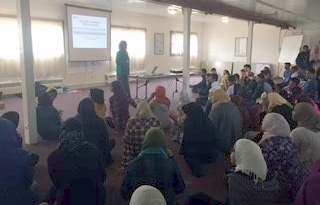 ING speaker Ameena Jandali delivered three presentations at the Muslim Youth of North America (MYNA) camp in Sausalito to a group of middle and high school-aged campers. The first presentation was Muslim Contributions to Civilization. The second session focused on responding to Frequently Asked Questions (FAQs) which is part of the INGYouth program curriculum. During the session, campers practiced asking and responding to questions in front of the larger group, and then received critiques for their performance. The last session focused on the camp's theme of oppression and began with the campers describing what oppression meant before looking at ways to overcome and work against it. The campers were incredibly interactive and responsive, and loved asking and answering questions.
Join Us at the ISNA Convention in Illinois:
ING Staff Will Present in 5 Sessions


ING staff will be speaking in the following sessions at the ISNA conference:
Saturday, September 5 – 12:15 PM
Countering Stereotypes through Authentic Narratives: Media & Online Curriculum
Saturday, September 5 – 3:30 PM
Muslims in Public Schools: Student Rights, Curriculum, and Parental Support
Saturday, September 5 – 4 PM – MYNA Session
Having Faith in Interfaith: Creating a Connected Country
Sunday, September 6 – 11 AM
Strengthening the Spirit of the Family
Sunday, September 6 – 2:30 PM
The Importance of Getting Muslim Holidays Recognized
To register for the ISNA Convention, go here.
Upcoming Speakers Bureau Trainings:
August 22 – Islamic Speakers Bureau
August 27 – Interfaith Speakers Bureau

Have you ever wanted to educate a wide array of audiences while speaking about your faith? Attend an upcoming Speakers Bureau Training at ING's office in San Jose. We will host a training session for our Islamic Speakers Bureau on Saturday, August 22nd from 10 AM – 2 PM. For more info or to register, see the event page. Our training session for the Interfaith Speakers Bureau is on Thursday, August 27th from 7 PM – 9:30 PM. For more info or to register, see the event page.
Like ING on Facebook
Join us on Facebook to learn about pressing issues of the day concerning our work in religious literacy, interfaith relations, cultural diversity education, freedom of religion, and religion and education.