[Editorial] More People of Faith Need to Speak Up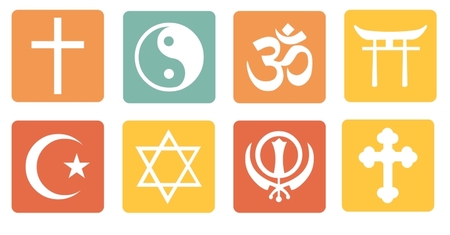 We as a society are in a tumultuous moment—not only politically but morally. Millions of people are taking to the streets to voice their discontent. People of faith, individually and as communities, are prominent among them. But do people of faith have anything unique to bring to the struggles of the present moment? Yes, we certainly think so.
Featured Upcoming Events
Jewish Solidarity Gathering With Muslims:
Sunday, February 26th in Burlingame, CA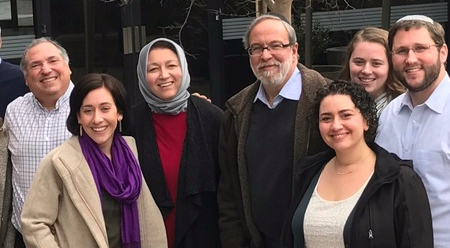 Join Jewish community members who are standing in solidarity with Muslims for inclusion and pluralism. Conversation will begin at 3pm and continue to 5:00 pm at Peninsula Temple Sholom in Burlingame. Light refreshments will be served. Contact Interfaith Coordinator Kate Chance if you'd like to attend:
[email protected]
Upcoming INGYouth Workshops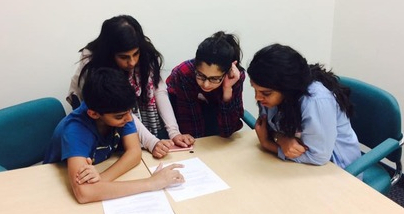 In light of increasing bullying of Muslim students, we have scheduled more
INGYouth Speaker Training Workshops
across the country. Attendees are trained on becoming advocates for themselves and others who are bullied, learn how to present about Muslims and their faith, and how to respond to difficult questions about Islam. Workshops are open to students in the 7th-12th grades
March 25th – Western Massachusetts (details forthcoming)
To request a workshop, contact INGYouth Coordinator Ishaq Pathan at [email protected] or 408.296.7312 x (130).
Webinar: "Meet a Muslim" and Other Ways to
Address Islamophobia in Your Community:
Wednesday, February 22nd at 11:00 AM PST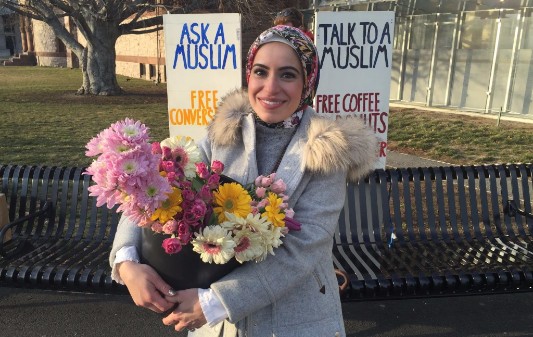 In response to rising Islamophobia, "Meet a Muslim" events are now growing in popularity. On Wednesday, February 22nd, ING's Know Your Neighbor coalition will present a webinar to share ideas, advice, and inspiration for others to host similar events in local communities. Join us as we talk to activists who have found creative ways to tackle this issue:
Facilitator: Kate Chance – Interfaith Coordinator of Islamic Networks Group (ING)
Panelists:
Mark Your Calendars to Explore the Exodus
Story With Muslims and Jews:
Sunday, April 2nd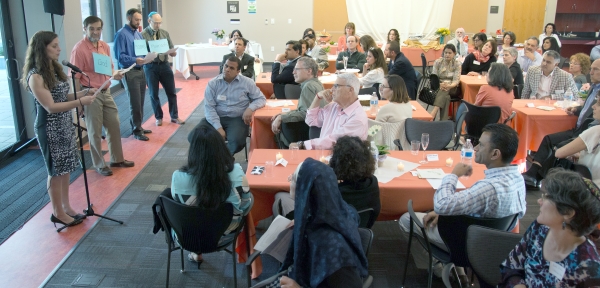 You are cordially invited to our upcoming Halaqa-Seder program to be held Sunday, April 2nd at Congregation Beth Jacob in Redwood City, California. The evening includes lively readings of the Exodus Story in both the Quran and Torah, interfaith table conversations and a delicious Halal/Kosher dinner all shared among members of the Muslim and Jewish communities. This event will be at capacity, so please reserve your seats ASAP.
ING In the News
ING's Communications Manager Reflects:
"Why Are We Afraid of Refugees?"
ING Communications Manager Tim Brauhn recently authored an article for Sojourners magazine exploring the tension between the oft-stated fear of refugees and the fear of showing true compassion; in Tim's case, from the Christian perspective. You can read the article here.
How a Bible Belt Christian Found Herself
Working for a Muslim-Founded Organization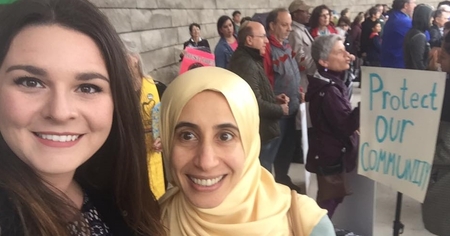 INGYouth Coordinator Speaks at Pro-Refugee
Rally Led by Jewish Organizations
ING Office Hosts State Department Guests
from Belgium, Italy, and Lebanon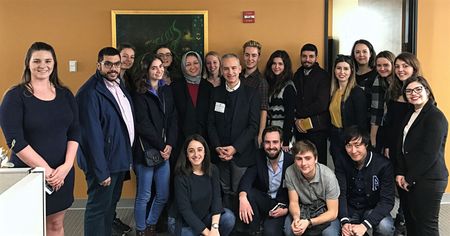 ING Executive Director Maha Elgenaidi and Interfaith Coordinator Kate Chance met today with US Department of State guests from Belgium, Italy, and Lebanon to discuss ING's programs in education and interfaith engagement as well as strategies for combating stereotypes and building bridges among people of different religious backgrounds in Europe.
Past Event Highlights
Grounding, Re-Focus, & Living the Best Expressions of our Faiths: Interacting With the Current Political Climate

ING's Know Your Neighbor coalition welcomed a group of incredible faith and community leaders to a
webinar exploring how prayer and contemplative practices can help us live the best expressions of our faiths
and guide us as we undertake difficult peacebuilding work. We heard from Jer Swigart, Co-Founding Director of The Global Immersion Project, Tarek El-Messidi, Founding Director of CelebrateMercy, Rabbi David Jaffe, Founding Director of the Kirva Institute, and Dr. Ji Hyang Padma, from the California Institute for Human Science. The panel was moderated by ING's Interfaith Coordinator Kate Chance. To stay on top of future Know Your Neighbor webinars, write to
[email protected]
ING Staff Members Active at Community Events
"I thought of myself as well educated and well-read and I am, but I realize now that I didn't know very much about Islam. If Americans knew what you taught us today, perceptions towards Muslims would radically improve. You really need to be everywhere around the country."
– Attendee after an ING presentation
ING Content Director Ameena Jandali spoke at an event last Saturday at the Albany Library called "Stand for Love," where she joined other interfaith leaders and activists to decry xenophobia and bigotry and to extend support to marginalized groups. On Sunday, Ameena presented at the second Oakland Peace Center Activism and Advocacy Resource Fair where she discussed some of the causes for growing anti-Muslim sentiment and remedies to combat Islamophobia. Ameena then conducted a teacher training for the staff of a Concord elementary school on Monday where she discussed some of the issues which impact Muslim students. To request a teacher training for your school visit our site.
ING Executive Director Maha Elgenaidi spoke at the Building Bridges Alumni Dinner in Palo Alto where she discussed the post-inauguration environment for American Muslims. Maha also spoke the same morning at a Presbyterian church as part of the "Stories of Hope and Action" speaker series. She talked through strategies for peacebuilding and how ING's work in educating the public about Islam and Muslims is of key importance for a strong civil society.