With extremists and terrorists increasingly representing Islam in the media, it is critical that Muslims not only define themselves but also create their own diverse narratives. ING's session at the 52nd Annual ISNA (Islamic Society of North America) Convention will describe various projects promoting alternate narratives including films on a variety of topics, books on Muslim heroes, and an online curriculum, which can be utilized by educators to teach about Muslims and their faith as well as related topics such as Muslim contributions, Muslim women, and a history of American Muslims.
ING's Maha Elgenaidi will moderate. The speakers are ING Content Director Ameena Jandali, UPF's Daniel Tutt, and author John Kiser. To register for the ISNA Convention, go here.
Upcoming Speakers Bureau Trainings
Have you ever wanted to educate a wide array of audiences while speaking about your faith? Attend an upcoming Speakers Bureau Training at ING's office in San Jose. We will host a training session for our Islamic Speakers Bureau on Saturday, August 22nd from 10 AM – 2 PM. For more info or to register, see the event page. Our training session for the Interfaith Speakers Bureau is on Thursday, August 27th from 7 PM – 9:30 PM. For more info or to register, see the event page.
ING Affiliate News: Colorado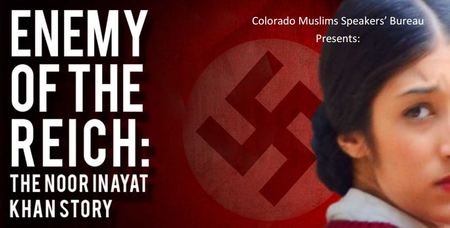 ING's Affiliate in Colorado is sponsoring a free screening of the incredible tale of Noor Inayat Khan, a woman whose bravery inspires us today. Please join them on the evening of July 31, 2015 from 6:30 – 9:00 pm for a film filled with intrigue and suspense, as well as interfaith dialogue and conversation. This free event is sponsored by Colorado Muslims Speakers' Bureau and will be held at the Multicultural Mosaic Foundation in Aurora. Check out the event's Facebook page for further info or to RSVP.
We're Hiring
To apply, please submit your resumes and cover letter to Affiliate Director Marcia Beauchamp at [email protected] We are hiring for the following positions:
Deputy Director
Programs Manager
Development Associate
If you live in the San Francisco Bay Area, please
join us this fall at our Supporters' Dinners.
Registration is now open.
We're incredibly excited to bring to the Bay Area some of the nation's premier thought leaders and changemakers who are working to counter extremist narratives about American Muslims. Each event will address a different strategy and is located in a different region to make it convenient for all of you to attend.
There will be no fundraising at these events, but you will hear from me and other staff on the organization's progress in our programs and endowment.
Registration is now open, and the cost covers only our costs for the reception and dinner.
We hope you will join us for an intellectually stimulating and entertaining evening.
Please consider purchasing a table and inviting your family and friends whom you want to introduce to ING.
Sunday Oct 11, San Mateo Marriott – with Dean Obeidallah (columnist for the Daily Beast, regular guest on CNN and other network news, and co-producer of nationally renowned comedy programs Axis of Evil and The Muslims are Coming and more recently the organizer of the New York Muslim Funny Fest). Register here.
Sunday Oct 25, Santa Clara Marriott – with Wajahat Ali (host on Al-Jazeera America, and author of Fear, Inc, The Roots of the Islamophobia Network in America and Domestic Crusaders, a two-act play about American Muslims). Register here.
Saturday Nov 14, San Ramon Marriott – with Haroon Moghul (academic and public commentator, regular guest on network news on Islam and public affairs, and creator of the Confessions Ramadan video series on YouTube). Register here.
Like ING on Facebook
Join us on Facebook to learn about pressing issues of the day concerning our work in religious literacy, interfaith relations, cultural diversity education, freedom of religion, separation of church and state rulings, and religion and education.