ING in the News
Muslim Women Don't Need Saving from Their Religion
Does a well-intentioned obsession with "saving" Muslim women from Islam blind Americans to the existence of sexism all around the world including the United States as evidenced by the #MeToo movement? ING Executive Director Maha Elgenaidi thinks so, as she stated in a recent commentary article at the Religion News Service (RNS). Maha says:
"…three pieces of advice [if you want to help Muslim women]: Start by questioning your biases and stereotypes concerning Muslims, and pay attention to the shared problems that all women — including American women — face in today's world… Those who want to "save" Muslim women, or those of other minority groups, should recognize the contributions that those minorities make and turn their attention and energy to working side-by-side with them to help our country live up to the ideals that we all profess." You can read the full article at RNS.
Christian and Muslim Youth Learn About Each
Other's Traditions at Episcopal Church Get-Together
Youth from Trinity Episcopal Church in Menlo Park recently spent an afternoon with Muslim teens from the INGYouth Speakers program as part of an on-going exploration focused on raising awareness about the lives and faith practices of the two groups. Last fall, Trinity Church kicked off a year-long theme of "Interfaith Harmony," which included a peace conference as well as guest speakers from other religions, including ING Executive Director Maha Elgenaidi and the INGYouth Speakers themselves. You can read the full article at InMenlo.

Past Event Highlights
INGYouth Speaker: "We have to stand up for each
other against all forms of fear and hatred."
INGYouth Speaker Anissa delivered a presentation on growing up Muslim in America for a high school's Day of Remembrance Event, which marked the internment of Japanese Americans during World War II. Click here or on the image above for video. She said, "Muslim and Japanese oppression are similar because these communities were both and are both under suspicion and viewed with fear and in some cases, hatred. I would urge you all to spread what you have learned today and to alter the ignorance and misconceptions of Islam and other religions." Learn more about INGYouth Speaker certification at our site.
INGYouth Speaker: "Personally, I wear a hijab
because I'm proud of my religion."
INGYouth Speakers deliver presentations at many different venues, but sometimes they stay right inside their own schools. In this video, INGYouth Speaker Zaynab is presenting to her classmates in Social Studies and responding to their questions about why she and other Muslim women wear hijabs. Learn more about the INGYouth Speaker certification process here.
Muslims Are Diverse Like the Rest of America
What's the relationship between religion and culture? Nora Talebi, one of the longest-serving members of the Islamic Speakers Bureau, recently gave a presentation on Islam and Muslims to a class of high school juniors in San Ramon where they discussed those same questions. Click the image above or visit our Facebook Page to watch a short video from her presentation here. Nora also brought along numerous visual aids including a Qur'an translated into Chinese! Schedule a presentation about American Muslims and their faith here.
Removing the Stigma Around Bullying:
How to Address it Safely and Effectively [Webinar]
INGYouth Manager Ishaq Pathan worked with the ICNA Council for Social Justice to produce this excellent webinar, which offers honest discussion on bullying prevention best practices for students and their parents. Learn more about the INGYouth Program and its resources at our site.
Upcoming ING Events
Interfaith Panel on Environmental Issues:
March 11th in Redwood City
On Sunday, March 11th, the Unitarian Universalist Fellowship of Redwood City will host an ING panel addressing environmental issues with representatives from the Buddhist, Christian, Hindu, Jewish, and Muslim faiths. Participants will provide a brief overview of their beliefs and practices before discussing their religion's teachings about conservation and environmental preservation.
Getting to Know American Muslims and Their Faith:
March 11th in San Francisco
On Sunday, March 11th, from 3:00 PM to 4:00 PM, ING Content Director Ameena Jandali will deliver one of ING's core presentations "Getting to Know American Muslims and Their Faith" as part of a special discussion series with the Girl Scouts of Northern California at the Interfaith Chapel of the Presidio.
Muslim Mental Health Conference Presentation:
March 15th in Washington, D.C.
On Thursday, March 15th, from 1:30 PM to 2:30 PM (Eastern Time), INGYouth Manager Ishaq Pathan will deliver a presentation at the 10th Annual Muslim Mental Health Conference titled "A Solution to Building Resilience Among Muslim School-Aged Children". The conference brings together faith leaders, health care providers, and researchers to examine topics related to mental health across the American Muslim community.
Challenging Islamophobia:
March 15th in Seaside
On Thursday, March 15th, from 11:00 AM to 1:00 PM, ING Executive Director Maha Elgenaidi will present a special lecture and discussion on "Challenging Islamophobia" for California State University's Spring Diversity Learning Series at the Monterey Bay campus.
Special Opportunities
​
ING Internships and Fellowships for Spring & Summer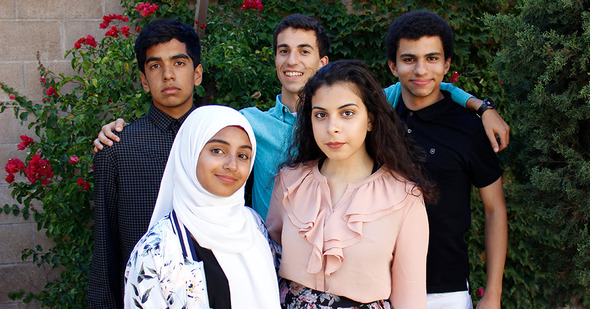 ING's internship program offers a variety of opportunities to learn about the different functions involved in managing and operating a non-profit organization. Interns gain knowledge related to increasing religious literacy and cultural awareness in our communities through ING's educational programs and presentations. Interns also receive practical training in project management, community outreach, research, writing, and other administrative assignments while working with our professional staff. If you're a student looking for real-world experience, please consider interning with us!
Every year, ING's Teen Fellowship program selects a cohort of highly-driven high school students and puts them in a position to deliver impact for our programs. Teen Fellows work on in-office projects during school breaks, participate in online brainstorming and feedback sessions to help craft future programs, and provide important assistance for local events and national campaigns. To learn more, visit the Teen Fellows page.