Table of Contents:
President Obama Visits Baltimore Mosque
to Promote Religious Pluralism and Peace
President Obama today addressed a large gathering at the Islamic Society of Baltimore, his first visit to an American mosque during his presidency. He was introduced by Saba Mukhtar, a pre-med student at the University of Maryland, who spoke about her own Islamic and American identity and the way that she lives her faith every day. She spoke impressively about the need for more religious literacy and interreligious engagement, two of the hallmarks of the INGYouth Program, which is holding multiple workshops in coming weeks (see below for details). You can watch a recording of Saba and the President's speeches here.

The President called for "a sustained effort to listen to each other, to learn from each other, to respect one another, and to seek common ground". Such sentiments are welcome, especially during a time of increasing anti-Muslim bigotry. Education and engagement among diverse groups are key strategies for peacebuilding. Two upcoming events tackle those ideas head-on: a February 27th workshop on answering difficult questions about Islam and Muslims, and our February 6th Endowment Supporters Dinner, where Haroon Moghul will ask his own difficult questions, like "Can American Muslims Stay Muslim?" We urge you to attend both of these events, as well as those organized through our Interfaith Allies initiative. ​
New Event: Answering Difficult Questions about Islam and Muslims in the Current Political Environment
Saturday, February 27th, 10:30 AM – 3:30 PM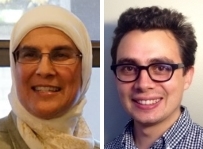 Trainers: Ameena Jandali, ING Content Director and Sean Rose, ING Deputy Director
For Muslims participating or wishing to participate in interfaith work or speaking to the public about Islam, this workshop was designed for you. Non-Muslim interfaith allies welcome.
The current moment is one of the most challenging times to be an American Muslim. Islamophobia is at an all-time high, fueled in part by recent tragic national and international events. Muslims often find themselves called upon to answer difficult questions about their faith and loyalty. To help chart a path through, we've organized this day-long workshop focused on guidelines, methodology, and knowledge for understanding and responding to frequently asked questions about Islam and Muslims. The workshop is suitable for ages high school and above. Attendees will receive a certificate of attendance and a printed kit with answers to common FAQs.
Registration fee: $10 which covers materials and a light lunch.

For questions, contact Programs Manager Henry Millstein at [email protected]
Endowment Supporters Dinner
Saturday, Feb. 6th, 6:00 PM – Register Now!​
Keynote speaker: Haroon Moghul
"Can American Muslims Stay Muslim?"
Asking difficult questions to bring about meaningful change
Haroon Moghul is an academic and public commentator, regular guest on network news on Islam and public affairs, and creator of the Confessions Ramadan video series on YouTube. Event time is 6:00 to 9:00 PM. We look forward to sharing our successes and our plans for the future as we initiate new programs and expand our current offerings. Register here.
Tickets for the event are $55. Free babysitting provided by the Ramadan Playgroup.
Parent and Educator Webinar Recordings Available
In January, expert guests from some of the nation's leading educational, civil rights, and religious pluralism organizations joined ING staff for a webinar series. The webinars explored ways that parents can support Muslim students and best practices for teaching about Islam and World Religions in public schools.

We are delighted to announce that the recordings of the Parent Webinar and Educator Webinar are now available on our website and YouTube channel. Please share these valuable resources with others in your networks and community!
Upcoming INGYouth Workshop
with Colorado ING Affiliate
February 20th, 9:00 AM – 4:00 PM
Later this month, ING staff will travel to Colorado for an INGYouth Workshop with the Colorado Muslim Speakers Bureau, an ING Affiliate.
Upcoming Adult Interfaith Training and INGYouth Workshop with Michigan ING Affiliate
March 5th and 6th, 2016
ING staff will travel to Michigan for events with the Islamic Education & Resources Network (ILearn), an ING Affiliate. On Saturday, March 5th, the Muslim Unity Center (MUC) will host an adult-focused event on Effective Interfaith Training for Muslims: Thriving in Difficult Times. On Sunday, March 6th, the MUC will also host an INGYouth Workshop for students aged 10-18 and their parents.
Featured Events from Interfaith Allies Program:
Meet Your Muslim Neighbor
ING recently brought together a diverse group of community members to envision our response to the simple question:
"How and where can I meet a Muslim?" 
The result is our 
Interfaith Allies: Meet Your Muslim Neighbor
initiative, which helps people connect with Muslim individuals and communities in their area. The events below are some of the opportunities that we've created to help kick off the program.
Interfaith and Tackling Islamophobia – SBIA Family Night
Friday, February 5th, 7:00 PM in San Jose
Please join ING staff and speakers at the South Bay Islamic Association's monthly Family Night Educational and Social program and dinner.
Moral Dimensions of Climate Change
Saturday, February 6th, 9:00 AM in Santa Cruz
ING Content Director Ameena Jandali will speak at the Progressive Christian Forum of Santa Cruz's sixth annual two-day conference on a panel about religious community responses to climate change and environmental justice.
Combating the Cancer of Extremism
Thursday, February 18th, 6:30 PM in Sunnyvale
ING Chief Executive Officer Maha Elgenaidi, Programs Manager Henry Millstein, and Interfaith Speakers Bureau member Eli Taub will
deliver a presentation
at this program on "Combating the Cancer of Extremism". The event is free but
RSVP is required
.
Islamophobia and American Muslims
Sunday, February 28th, 10:30 AM in Berkeley
ING Content Director Ameena Jandali will deliver a
presentation
on the interplay of Islamophobia and American Muslims at this event for the United Methodist Church of Berkeley.
50th Anniversary of Nostra Aetate: Jewish Reflection
Wednesday, March 16th, 7:00 PM in San Jose
ING Speaker Harry Cornbleet will offer one of a series of reflections by members of different faiths on the Vatican II document Nostra Aetate that opened up the Catholic Church to interfaith dialogue.
Birds of Longing: Exile and Memory – Muslim, Jewish, and Christian Poetry from the Convivencia
Thursday, March 31st, 7:00 PM in Los Gatos
The art project "Birds of Longing: Exile and Memory" interweaves Muslim, Jewish, and Christian poetry and spiritual texts from the period of the Convivencia in Spain. ING Chief Executive Officer Maha Elgenaidi will participate on an interfaith panel reflecting on the artwork and texts.
What a Muslim Wishes Christians Knew About Islam
Sunday, April 3rd, 5:00 PM in Piedmont
ING Content Director Ameena Jandali will present her
reflections
on "What A Muslim Wishes Christians Knew About Islam" at Piedmont Community Church.
20th Annual Multicultural Freedom Seder
Wednesday, April 20th, 6:00 PM in San Francisco
The theme for this year's
Multicultural Passover Freedom Seder
 is modeled on recognizing the many communities that call San Francisco home. ING is a co-sponsor of the Freedom Seder and we urge you to attend and celebrate together. You can join ING's table by writing to ING Deputy Director-Programs, Sean Rose at
[email protected]