Women's Marches Show America's
Religious Diversity and Strength
Maha Elgenaidi speaks at San Jose Women's March
ING's Chief Executive Officer Maha Elgenaidi spoke at last Saturday's Women's March in San Jose. She said:
"Our founding fathers and mothers set out to give us a framework in which we could live together in peace, by guaranteeing fundamental and inviolable rights: freedom of speech and expression, freedom of religion, freedom to choose our government leaders, freedom to assemble peaceably to seek redress of wrongs, and all the other freedoms that make us Americans. But there are no rights without responsibilities. And we're here today because we recognize those responsibilities—and above all, at this moment in our history, the obligation to stand together as one family to protect this nation, its principles and ideals, its values and laws, against the forces of fear and bigotry that would tear us apart."
A video of her speech was posted to our Facebook Page where it reached over 128,000 people and generated more engagement than any post in the history of ING's Facebook Page, including 888 Shares and 1,200 Reactions. You can watch the video and read the full text of Maha's speech on our site.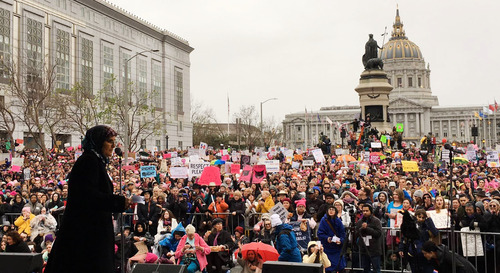 Content Director Ameena Jandali spoke at the San Francisco Women's March on Saturday and said:
"Today let us renew our commitment to stand together stronger than ever, more determined than ever to work for justice, equal rights and inclusion of all communities. For the intersectionality of our different struggles has clearly shown that they are all different iterations of the same."
You can read the full transcript of Ameena's speech at our site.
Upcoming INGYouth Workshops
In light of increasing bullying of Muslim students, we have scheduled five INGYouth Speaker Training Workshops across the country. Please urge Muslim students in the 7th-12th grades to attend and become effective advocates for themselves and their religion.
March 25th – Western Massachusetts (details forthcoming)
To request a workshop, contact INGYouth Coordinator Ishaq Pathan at [email protected] or 408.296.7312 x (130).