After Months of Certification Drills, 55 New INGYouth Speakers
Ready to be Publicized to Their Schools in the Fall
The INGYouth Program took shape in a time of increased bullying and harassment of Muslim students and other religious minorities. As it responded to the needs of young people, it grew to encompass public presentation training, high-level academic study, and eventually a speaker certification track to mirror that of our Islamic Speakers Bureau. This summer, we look to the hundreds of students who have attended our anti-bullying workshops and to the 55 certified Youth Speakers whose skills will soon be publicized to their home districts. They're ready to dispel negative attitudes about their faith among their peers, and we couldn't be more proud of them. Learn more about the Speaker Certification Process here, or contact INGYouth Manager Ishaq Pathan at [email protected] or 408-296-7312 ext. 130.
Get A Feel for INGYouth Speakers with This Mock Presentation
ING Intern and certified Youth Speaker Soha Manzoor worked with us to create a series of mock presentations for the Youth Speaker Certification program. Click on the picture above to see her deliver a shortened version of our popular Muslim Women Beyond the Stereotypes presentation.
Register Now for Our Upcoming Anti-Bullying
and Speaker Training Workshop in Ohio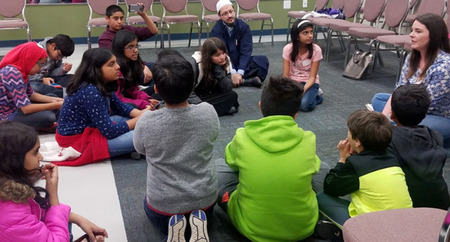 Just in time for the new school year, we have one more INGYouth Speaker Training Workshop scheduled in Ohio. Attendees are trained on how to stand up for themselves and others who are bullied, how to present about Muslims and their faith, and how to respond to difficult questions about Islam. Workshops are open to students in the 7th through 12th grades.
To request a workshop in your area or to receive information on other autumn workshops, please contact INGYouth Manager Ishaq Pathan at [email protected] or 408-296-7312 ext. 130.
Drill Sessions to Prepare INGYouth Speakers for the School Year:
"My head hurts from absorbing all of that so quickly."
To prepare for the school year, INGYouth Speakers have been participating in webinars with ING staff to practice their knowledge and delivery of program content. Our Directors Maha and Ameena have drilled them on frequently asked questions that they may encounter in their schools and had them present slides from our special youth presentations. Over this past five-week period, INGYouth Speakers have shown incredible improvement and are ready to take on Islamophobia and misinformation about Muslims in their schools. After these sessions, we are sure that our INGYouth Speakers will be advancing the mission of ING with quality and integrity.
Feel free to contact me if you have any questions about the INGYouth program at 408-296-7312 ext. 130 or [email protected]
Ishaq Pathan
INGYouth Manager