INGYouth Coordinator Ishaq Pathan presenting to Muslim youth in San Francisco
INGYouth Has Added A New Dimension:
Certifying Muslim Youth Speakers
In the current political climate around Islam and Muslims, young people who are Muslim need to be able to speak out accurately and confidently about their faith and the people who practice it. This has been the mission of INGYouth from the beginning. The program held seven workshops in 2016, not only in the San Francisco Bay Area but also in Ohio, Colorado, Michigan, and Connecticut, with up to 75 participants in each workshop, equipping both students and parents with skills and tools for supplementing education about Islam and Muslims in social science classrooms and responding to questions about Islam and Muslims.
ING decided, however, that it wasn't enough to train Muslim youth without immediate impact. The current situation demands young people who are equipped to speak publicly in their schools with the authority and confidence of ING's adult speakers. And so we initiated a program of youth speaker certification. ING has so far certified 20 youth speakers spread throughout ten schools in Pleasanton, Dublin, Danville, Livermore, San Ramon, and Mountain House; 20 more participated in recent workshops in San Francisco, many of whom will undoubtedly be certified in the coming months. These students also receive training in responding to bullying and harassment.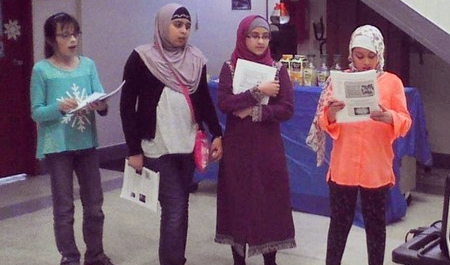 Engagement with parents is also an important part of INGYouth. Parents at INGYouth workshops take part in their own training track that instructs them on how to support their students, their rights as parents, and educational resources they can share with teachers.
Workshops and youth trainings are already in the works for Fremont, Houston, Philadelphia and Massachusetts; the INGYouth program reaches nationwide.
ING's Nationwide Impact
| | |
| --- | --- |
| | New ING Affiliates: ING's network of Affiliates has grown to 23 organizations across 17 states, where trained speakers using ING's methodologies and content deliver ING presentations regionally to tens of thousands of students and professionals in schools, universities, houses of worship, community centers and public institutions. |
| | |
| | Educators in 31 States Use Our Lesson Plans and Curricula: New curriculum topics include the 19th-century Algerian leader Abd el-Kader, who after fighting French colonialism became a spokesman for interreligious and intercultural understanding. We also have a new lesson plan on Islamophobia and Its Impact. The full set of our curricula can be found here. |
| | |
| | Greatly Increased Demand for Cultural Diversity Seminars: Demand for ING's cultural diversity training grew five-fold this year with requests mostly coming from law enforcement agencies. It is worth noting that of the 94 certified Affiliate speakers, 40 are trained to deliver ING's law enforcement training. Especially in the current charged atmosphere around Muslims and Islam, sensitivity and understanding among law enforcement professionals is vital, and ING is continuing a long tradition of providing it, not only locally but nationally. |
| | |
| | Web and Social Media: Our online presence continues to draw widespread attention. The ING website receives over 150,000 unique visitors each year, and our FAQs, providing accurate, researched answers to questions about Islam and Muslims, including such topics as ISIS, Sharia, and Islamophobia, see more than 110,000 unique visitors each year. The audience of ING's Facebook page has grown enormously: to 25,742 as of last week! |
Know Your Neighbor: Multifaith Encounters
Attracts Partners from Across the Country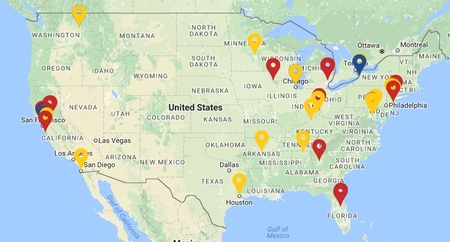 We know that many Americans today feel the urgency of building understanding and respect among people of diverse religious and cultural backgrounds, but they often don't know where to begin. The Know Your Neighbor: Multifaith Encounters initiative exists to help individuals or groups find out how to become involved in interfaith activity locally and to show the American public the wide variety of interfaith events, programs, and organizations throughout the U.S. Since the White House-sponsored launch event last December, we've added 31 interfaith partners organizations across the country. You can visit our interactive map to find events near you – stay tuned for even more programming in 2017.
In short, ING's reach extends well beyond the San Francisco Bay Area, and even beyond the areas reached by our Affiliates; our audience and impact is nationwide.
Will you join us in bridging the divides among Americans?
Every gift counts, whether it's $1,000 or $10 a month; your contributions made online go directly to our programs.