56% of Americans say that the values of Islam are at odds with
America's values and way of life, a leap from 47% in 2011.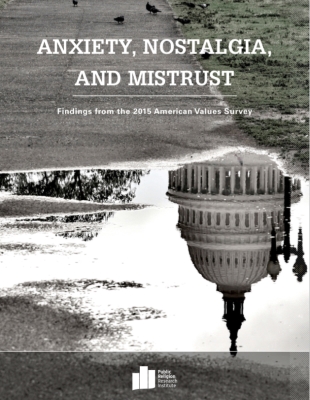 On Monday, the highly-regarded Public Religion Research Institute (PRRI) released further analysis of the recent American Values Survey. It is a sobering read, particularly in light of the rise in anti-Muslim and anti-immigrant sentiment following last week's hideous attacks in Paris.
ING and its Affiliates quickly released a statement praying for the victims and reaffirming our commitment to peace and justice, then followed that statement with a video of ING staff and Affiliate leaders discussing the terrible violence and possible remedies for it. The video now has over 2,000 views and our statement has reached more than 34,000 people.
Despite the many condemnations by Muslims here and around the world, 56% of Americans say that the values of Islam are at odds with America's values and way of life, a leap from 47% in 2011.
This is why we need ING's programs more than ever. Education and engagement work – and our impact reports prove this.
With your active partnership, we can continue to increase our impact and more effectively challenge dominant negative narratives and stereotypes. Thanks to the generosity of our donors this year, we have grown our staff, built and strengthened our nationwide Affiliates, developed new interfaith projects and partnerships such as the Muslim-Jewish Halaqa-Seder project, and released our curriculum online at no cost to educators.
But we need to do much more! With your support, we will continue to strengthen our interfaith partnerships, build a more robust media literacy campaign to challenge anti-Muslim and anti-minority attitudes, and expand the reach and impact of our presentations.
Click here to support ING's work and continue reading below to learn more about our recent successes and highlights. Your generous donation and active partnership are critical as we continue to build and expand our reach.
With deep appreciation,
Maha Elgenaidi, CEO
ING Staff Speak About Educator
Resources on Paris Attacks


In this video, Deputy Director-Programs Sean Rose, Content Director Ameena Jandali, and Affiliate Director Marcia Beauchamp speak about what educators and school administrators can do to respond to and teach about the recent attacks in Paris. They discuss many of ING's free resources available to school staff. You can find a collection of those resources here.
A Busy Week for ING Staff, Speakers, and
Affiliates in Wake of Paris Attacks
We delivered ING presentations to hundreds of people
this week through lively, face-to-face interactions

ING speakers had an even busier week than usual since the Paris attacks last Friday, helping to clarify and address the many misconceptions and stereotypes that surface after a terror attack. While these presentations were scheduled weeks beforehand, coincidentally the first ING event after the attacks was a multi-faith panel on Sunday at the Berkeley Buddhist Temple on the topic, "Responding to Disaster: How the Faith Community Should Respond to Catastrophes, Personal and Collective." Content Director Ameena Jandali spoke powerfully, reiterating that such attacks counter all Islamic teachings and explaining how the actions of ISIS are contrary to mainstream Islamic values and practices.
ING Speaker Ismael Nass accompanied a group of two dozen people from a retirement community to a Palo Alto mosque where they were led on a tour of the facility by the imam. The group's visit was covered by the Mercury News, which included Ismael's praise for the retirement community: "Everyone is concerned about terrorism, and now is a good time for different groups of people to seek out truth. We have a speakers bureau with members who talk with police, hospitals, churches, and all kinds of interfaith groups…educating people about other faiths these days can be critically important." After returning to the retirement community, Ismael presented ING's core presentation Getting to Know American Muslims and Their Faith.
ING CEO Maha Elgenaidi spoke yesterday at St. Teresa Catholic Church in San Jose on the occasion of the fiftieth anniversary of Nostra Aetate, the Vatican II document that opened the Catholic Church to dialogue with non-Christian religions. In addition to reflecting on the topic, she spent much of her time responding to common questions about violence and the treatment of women in Islamic culture. One of the attendees wrote to voice her appreciation for the discussion, saying, "I wish to thank Maha Elgenaidi for her presentation at Santa Teresa Church last night. It was very educational and enlightening and reinforced my belief that religions have far more similarities than they do differences. I can only hope that we as a nation do not blame the many for the acts of the few and delusional."
Affiliate News: Arizona
The Islamic Speakers Bureau of Arizona's Executive Director Azra Hussain represented the Muslim faith on a panel discussing food's interplay with religion at a Jewish community center. Representatives from the Jain, Jewish, Muslim, Hindu, and Essene traditions talked about scriptural references to diet, the role of fasting, and how food can be shared more equitably on earth.
Affiliate News: Colorado
The Colorado Muslim Speakers Bureau brought attendees to a vigil in Denver, Colorado, on Friday evening. Many of those in attendance were French nationals or had family and friends in Paris at the time of the attacks. Speaker Mariam Sabr reported that she was thanked several times by French people for attending.
Positive and Inspiring Responses to the Paris Attacks
In times of tragedy, the news cycle is filled with sadness and anger. We're actively collecting the positive stories that emerge in response to the Paris attacks and adding them here. These are stories of hope, resilience, service, and solidarity; stories of individuals and organizations responding to tragedy not out of fear, but out of love. If you find more good news, please send it to Communications Manager Tim Brauhn at [email protected] We'd like to highlight the following stories:
At a recent game against the Detroit Lions, Green Bay Packers' Quarterback Aaron Rodgers offered some choice words to fans who shouted anti-Muslim slurs during a moment of silence for the victims of the Paris attacks: "I must admit, I was very disappointed with whoever the fan was that made a comment that was very inappropriate during the moment of silence," Rodgers said. "It's that kind of prejudicial ideology that puts us in the position we are today as a world."
An imam, pastor, and rabbi joined hands at an interfaith service in a symbolic show of unity and friendship. The service included music and readings from Christian, Jewish, and Islamic traditions, followed by a shared meal for all those in attendance. Breaking bread together "further created a sense of community among people who experience the sacred in different ways but also who share much in common," said the pastor.
A Muslim restaurant worker pulled two injured women off the street and into the restaurant's basement during the Paris attacks. When asked what he thought about the killers claiming to act in the name of Islam, he said "This has nothing to do with religion. Real Muslims are not made for killing people. These are criminals."
A coalition of twenty-eight faith and civil rights organizations have issued an open letter calling for unity and condemning media's "recent rhetoric that exploits" the tragic terrorist attacks in Paris "to misrepresent Islam, call for more profiling of Muslims, and demonize Muslim refugees."